Easter Dinner Decor
There is nothing prettier than a wonderfully decorated table for Easter dinner. Easter is usually the first time we get to celebrate spring and incorporating the season's flowers, fruits, pastels and holiday candy can make an ordinary dinner table into an elaborate Easter creation.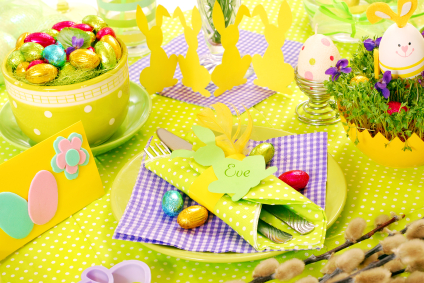 Set the tone with flowers
Easter is the perfect time to arrange beautiful spring flowers around your table. If you are ordering bouquets from a flower shop, remember they are very popular this time of year, so be sure to order well in advance.
If you want to make your own, you can buy individual small pots of prim roses, petunias, hyacinths and a short tulip or two. Arrange the flowers in woven Easter baskets (long and narrow works well for a centerpiece) and fill the empty spaces with floral moss or green Easter grass. Add small vases of tulips around the house. After Easter dinner, these flowers can be added to your garden for a splash of Spring. For a simpler flower arrangement, add a vase of Easter Lilies as the centerpiece.
Festive floral alternatives
For alternative centerpiece ideas, use white or pastel candles in white porcelain or silver-toned candleholders. A large glass bowl can be filled with fresh fruit. Remember to save room on the table for all the serving dishes and make sure the centerpiece is not too high for you to see everyone at the table.
Coordinate your table setting
Set your table with a tablecloth, table runner, places mats and napkins in Spring prints or coordinating solids. For napkin rings, use something flowery or themed for the Easter holiday if you can find them. Use your good china, silver and any serving dishes with spring motifs.
Don't forget place cards
Before your dinner, make homemade place setting name cards in pretty pastels using thick card stock. Put the place cards and a chocolate bunny or small sachet bags with chocolates or almonds at each place setting for some Easter fun. Small baskets filled with Easter grass and pastel colored eggs can be placed around the table as well.
Fun at the kiddie table
If you are having a children's table, add small pastel buckets and fill them with Easter treats like jelly beans. For children's napkins, use pale yellow or blue and tie them with white satin ribbon in place of the napkin ring. Allow children to make their own name cards while waiting on dinner to be served by providing white name cards and pastel colored markers. For the tablecloth, use a paper pastel one so the kids can draw Easter pictures on the tablecloth to keep them occupied and for some added Easter fun.
More on Easter Decor
Eco-friendly Easter ideas
Decorating with an Easter-inspired color scheme
Egg-cellent craft ideas