Hoppy Easter
Easter is a cause for celebration and is a great holiday for the kids to enjoy. You can easily engage your active children with some fun Easter crafts to not only spend some quality time together, but also to create something fun to keep (or eat!).
(page 2 of 3)
Bunny Visor
Kids love the Easter bunny so give them something to make for themselves to wear for Easter. They can really get into the celebrating mood with bunny visors -- a great Easter craft from Elmer's that will get them into just the right character for the "Bunny Hop"!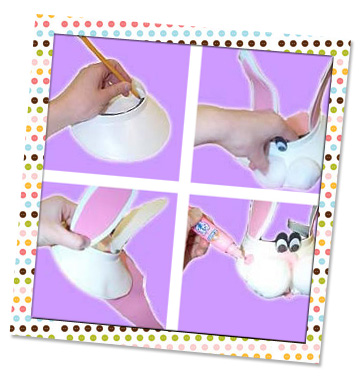 Materials
White visor
Fun foam (2 sheets of white and 1 sheet each of pink & black)
42mm oval animal eyes
(2) 2" white pom poms
Pretty pink creamcoat paint
Scissors
Pencil
Ruler
Wire cutters
Elmer's Glue-All
Elmer's Glue Sticks
Elmer's Squeeze Creations
Directions
Trace around the visor with a pencil onto the white Fun Foam and cut out the pattern. Cut out remaining Fun Foam pieces using the provided pattern.
Attach the foam pieces to the visor using Elmer's Glue-All. Start with the visor piece and glue to the visor, matching up the edges carefully. The other pieces will be glued onto this piece. The ears should be glued to the inside of the visor with each ear hanging out from each side of the visor.
Glue the pom poms to the visor to form the face (see photo). Glue the plastic eyes to the black Fun Foam outer eye patterns and then glue these to the visor so the top half sticks up above the visor's top edge (see photo).
Glue tongue and teeth in place.
Rub a small amount of pink paint onto the visor where the bunny's cheeks would be (see photo). Allow to dry.
Up next: Learn how to make an Easter Wreath! >>