Dress Divinely!
There's an art to dressing sexy, you say? You have no idea how some fly ladies do it, you tell yourself. It must be hard, you wonder. Listen up, lady, it's easier than you think! You feel dowdy now, but if you follow these budget-friendly tips on how to sex up your wardrobe, you will feel fly in no time. Don't think you have it in you? Give these a shot for some wardrobe mojo.
(page 3 of 3)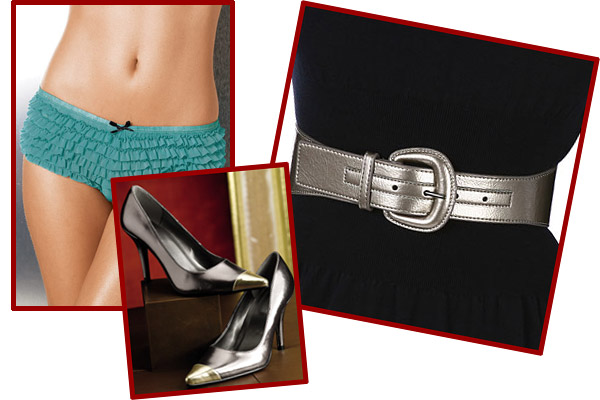 9. Cinch Your Waist
If you don't have a sexy hourglass figure, you can create the illusion of one by cinching your waist with a belt. Make sure your belt sits right above your hips, slimming your mid-section, but accentuating your hips and bottom. (Beyonce loves this look!)

One great cinch belt to experiment with is the Betsey Johnson Patent Belt with Horseshoe Buckle ($24.99 at smartbargains.com).
10. Get Some Bling
Whether you're wearing a little black dress or need to dress up a pair of sassy jeans, gems and stones can sexify the ensemble. I'm not talking about itty-bitty diamond studs (although those are cute, too) -- I'm talking statement jewelry like this D&G Jewels Baroque Ring ($49.99 at smartbargains.com).
11. Wear Pretty Panties
Even if no one can see them, many women say that wearing pretty undergarments makes them feel sexy all over. It's your little secret, after all -- and what's sexier than that? For starters, try the ultra-sexy Ruffled Mesh Crotchless Boyshorts ($18 at Frederick's of Hollywood).

Whether or not anyone else is going to see it, the most important thing is that when your clothes come off, you feel fabulous. (Read more about picking panties in our article Sexy, fun and functional thongs, underwear, panties and knickers.)
12. Wear It Well
Ultimately, it's all about the attitude. If you follow steps 1 to 11, it won't make waves if you don't feel sexy. Wear the clothes, wear them well, and remind yourself constantly that you are one hot lady. If you believe it, they will, too!