Dress Divinely!
There's an art to dressing sexy, you say? You have no idea how some fly ladies do it, you tell yourself. It must be hard, you wonder. Listen up, lady, it's easier than you think! You feel dowdy now, but if you follow these budget-friendly tips on how to sex up your wardrobe, you will feel fly in no time. Don't think you have it in you? Give these a shot for some wardrobe mojo.
(page 2 of 3)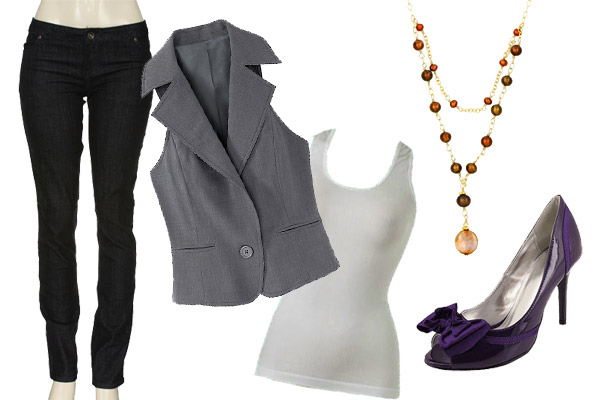 5. Try Some Skinny Jeans
We hope you can wear them – not everyone can. You should have a pair of skinny denim like these YMI Stretch Dark Blue Slim Denim ($15 at 15dollarstore.com) in your closet by now.

If not, anyone can get away with a cute pair of cigarette pants or boot-cut jeans. Wear these sexy bottoms with plain tops that flow and aren't form-fitting. Top the look off with a long, layered necklace -- like this 14k Goldfill Chestnut Brown Coin Pearl Layered Necklace from Overstock.com -- for extra pizzazz.
6. A White Tank Goes a Long Way
That's right, girlfriend. The white tank really does go a long way when it comes to sex appeal. I don't know how to explain why it's hot. It just is. Maybe it's because it's effortless and a color that is flattering for everyone?

In either case, make use of this secret and wear your white tank it with a hot pair of denim and some jewelry. Heads will turn for sure.

This should probably already be in your wardrobe, but if it isn't, check out the Shinny Seamless Rib Tank ($11.50 at Wet Seal).
7. Show Some Cleavage
You can show a little cleavage while keeping your look tasteful. Don't think it can be done? Try a vest (with nothing underneath). Just be sure to pair it with a dressy pair of pants, not skimpy bottoms like a mini skirt.

This Signature Two-Way Stretch Collection Shawl-Collar Vest is a great choice at a great price – it's only $35 at spiegel.com. (Need a little more help in the décolletage department? See this article: Make your breasts look bigger - enhance your cleavage with makeup.)
8. Expose pedicured toes
A foot fetish may sound a little creepy, but to a lot of men (and women), gorgeously pedicured toes are very sexy.

And when you put those perfect toes in a pair of adorable Patent Bow Peep Toe Heels (like these purple beauties - available for just $12.80 at gojane.com), your wardrobe just went up a notch on the sexy scale.
See more fabulous fashion finds on the next page!