The Men That You Need To Avoid!
The single life can be fun but at times, it's not easy. Sometimes you have to kiss a lot of frogs before you find a prince. We talked to a variety of women of all ages about their worst dating experiences. With these dating disasters, there were 10 common themes.
(page 3 of 3)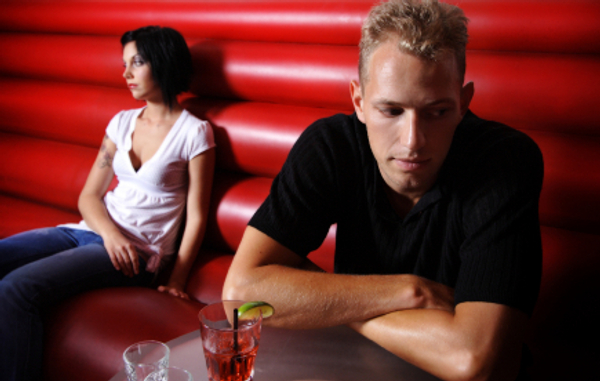 Lazy moocher
Sometimes, it may take a man time to figure out what he wants to do with his life. But when it's been years and he's still living off of others, that's definitely a warning sign – as Erin can attest.

"While grabbing a late night snack at a local sandwich shop with a friend, I saw a guy who was exactly my style. He had long hair, hip clothes and a bright smile. I kept glancing over at him until he came up and we started chatting. Soon I was giving Jeff my phone number and he was inviting me to see a local band play that upcoming weekend.

The day before our first date, he called me. I had a lot of fun talking to him on the phone and getting to know him a bit. However, as we were wrapping up the conversation, he asked me if I could pick him up for our date because his car was in the shop. I thought it was an odd request but I didn't mind.

The night of our date, everything went fine at the club - we couldn't talk much because the music was pretty loud. Afterward, we decided to go back to the sandwich shop where we first met. Since Jeff had a few beers at the concert he was a bit more open than previously. Our conversation was going smoothly until we started talking about life goals.

Not only was Jeff unemployed, he proceeded to go on a long rant about how capitalism has ruined America. He told me that not only does he not have a job, he refuses to ever get a job. As Jeff explained, he was completed fine mooching off his parents as he concentrates on more important activities – such as listening to music. I even asked him what would happen if his parents kicked him out. He said that he wouldn't mind living on the streets, panhandling and maybe even hitchhiking across the country.

By that time, I had already realized that this was going to be our first and only date. While I can definitely appreciate music, a guy who is too lazy to even contemplate getting a job isn't the right guy for me."
Control freak
It's good when the man in your life is interested in what you do on a daily basis. But, as Karen found out, it's not so good when it becomes an obsession. Here's her story.

"A few years ago, I met a good-looking guy named Will in my college English class. We started off by just getting together to study our English notes but soon we were going on dates. Within a few weeks, we were spending a whole lot of time together.

Whenever we weren't with each other, he'd give me a call every couple of hours to talk and touch base. At first, I thought it was sweet. I thought Will just wanted to see how I was doing and make sure everything was alright.

But when I went home to see my family for Thanksgiving, I started to notice his behavior wasn't normal. He'd call me every few hours and instead of friendly conversation, he'd start quizzing me on what I was doing. A few times, he thought a voice in the background was an ex-boyfriend or a high school sweetheart when it was actually just my younger brother!

I stuck it out with Will for a few more months to see if his control issues would subside but it instead got worse. He even had the gall to make me a schedule of where I had to be and what I had to do in each hour of the day. If I came across another male in any type of situation, Will would get insanely jealous.

The final straw was when he commanded me to drop one of my courses because he thought the professor had a crush on me. All I could do was laugh and tell him it was over. Now that I have a boyfriend who both loves me and gives me my space, I'm extremely happy that I got out of that relationship with Will when I did."
The slob
Many wives will tell you that a husband isn't exactly the cleanest animal in existence. That said, there's a line between being messy and being a slob. Here's Kaitlin's story.

"I had a crush on Bruce for a few months before I had the courage to act on it. He lived by himself in my same apartment building so I made a plan to 'accidentally' bump into him when he was walking his dog.

When I was coming home from work one day, I saw him outside with his dog. I rushed inside to change into something sexier and then made my way back outside. I purposely got in his path and when he walked past me I smiled and said hi. He smiled back and I walked with him and we talked for a little bit. After a little bit more flirting, he asked me for my number and invited me for coffee.

A few hours later, I was stunned when my phone rang. I didn't know the invite was for the same day – but I decided to go with the flow. Since the coffee shop was across the street from our apartment building, we decided just to both walk over and meet there.

We talked for what seemed like a few hours before the coffee shop started to close. As we walked back to the apartment building together, Bruce said he'd walk me to my door but he wanted to first stop by to check on his dog. I thought it was perfectly understandable so I agreed.

When we got to his apartment, he invited me in but I told him I'd wait outside. But as he walked in, I caught a glimpse of the disaster that was behind the door. I was so stunned at the grotesque scene that I stuck my head in after he was out of sight. Simply put, it was disgusting! There were fast food bags all over the place, laundry on the floor, beer bottles everywhere and it smelled horrible.

I waited for him to walk me to my apartment but from then on I avoided him as much as possible. Whenever I'd see him, all I could think about was that pigsty he called home."
Dating and relationships