Romantic
Proposals
Valentine's Day is the most popular day of the year for marriage proposals. We talked to dozens of real life couples about the day they got engaged. The stories were varied - from funny to romantic and oftentimes a little bit of both. Here are our 10 favorite marriage proposal stories.
(page 3 of 3)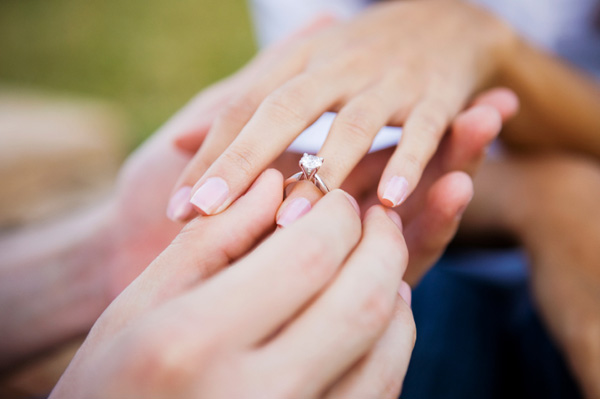 Tim and Monika (married 4 years)
Monika and Tim had been working in the same office for a year when he finally asked her on a first date. Though it took him a long time to ask her out, he wasted no time with the marriage proposal.

From Tim: "We moved very quickly. After our second date, we were pretty much living together because we couldn't stand to be apart. After five weeks of dating, no one in our office knew that we were even seeing each other (it was against company policy).

One day we were in a staff meeting with our boss and about 30 other employees, I was giving a presentation using a slide projector, crunching numbers about a huge project we had coming up. As I was wrapping up the presentation, I said, 'I have one more thing.'

I flipped to the final slide and there it was for the whole office to see. The slide said, 'Monika, Will You Marry Me?'

She was so shocked that she almost fainted. After catching her breath, Monika accepted and we got married four months later."
Kellie and Kyle (married 3 years)
Kellie and Kyle tried to make their long distance relationship work. And when the distance got to be too much, they found a solution - they got married.

From Kellie: "There's no flowers, romance or even a ring in my story. Kyle and I had met at a business conference. Though I lived in New York and he lived in Minneapolis, we tried to make it work. He was the first guy in my life that had ever made my heart flutter - I thought it was worth trying.

After five months of phone calls and emails, I told him one night that I didn't think it was going to work. He agreed and we said our goodbyes on the telephone. I cried myself to sleep and cried all the next day.

The next morning, I sent him an email that said, 'I can't stop thinking about you. I don't want to spend life without you. Let's get married.'

He called me almost immediately and said, 'I would have asked you, but I thought you'd think I was crazy.'

Kyle quit his job, moved to New York and we got married at the court house three weeks later. We couldn't be happier - I'm expecting our first baby in June."
Lucie and Mark (married 28 years)
Sometimes couples break up a few times before settling down and getting married. With Lucie and Mark, they almost broke up and got engaged on the same day.

From Lucie: "After a really, really tough day at the office, I just wanted some peace and quiet. While taking the bubble bath, I got out to answer my phone because it was ringing continuously. It turned out to be my long-time boyfriend on the other line but I told him I was in no mood to talk.

About 30 minutes later, there was a knock at my door. It was my boyfriend Mark again. Enraged, I told him that because he couldn't respect my wishes to be left alone that I never wanted to see him again. As I went to slam the door, he blocked it with his foot and got down on one knee and asked me to marry him. I said yes to his proposal and then we went out to meet my parents, who my boyfriend had flown into town, for dinner. My bad mood almost ruined what turned out to be a wonderful day!"
Kori and LJ (married 6 years)
This is my own engagement story. I lived in Los Angeles when I met my soon-to-be husband on a basketball message board online. He lived in Texas.  After connecting, we talked by email and the phone every day for several weeks before I flew to San Antonio to meet him for the first time in April 2002. We actually knew we would get married the first time we talked on the phone before ever meeting in person. We officially got engaged the next month in May.

I was visiting San Antonio for the weekend. The engagement day was very romantic. I was taking a shower at his townhouse and when I came out, all the lights to the bedroom were out and the room was filled with red, white and pink candles. There were rose petals all over the bed along with a dozen long-stemmed red roses.

On the bed were also a few cute items: A Princess Barbie doll that he cut the hair a little shorter and colored the hair with a Sharpie marker so that it would look like me. Four stuffed animal dogs representing each of my dogs. Also a few cards that he had written some very nice things. This is when I actually thought he was going to propose, but that wasn't it.

After this whole presentation, we went downstairs to watch the NBA playoffs. At halftime, he went upstairs to get something then came back down. As I was walking across the room, he grabbed my hand and got on one knee. And said, "Princess, I love you so much. I love you so much. Will you marry me?" and presented the ring.

I said, "Of course" and we lived happily ever after.