Romantic
Proposals
Valentine's Day is the most popular day of the year for marriage proposals. We talked to dozens of real life couples about the day they got engaged. The stories were varied - from funny to romantic and oftentimes a little bit of both. Here are our 10 favorite marriage proposal stories.
(page 2 of 3)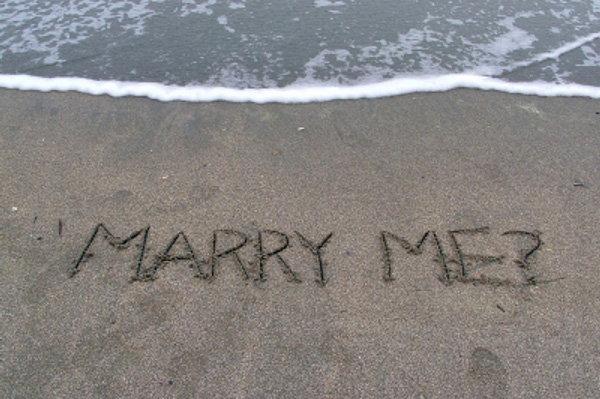 Diana and Don (engaged)
Diana never thought Don was into all the romantic stuff. However, his Valentine's Day proposal changed all that.

From Diana: "Don and I have been living together for four years and have two kids. I never really thought much about having a real wedding or a romantic marriage proposal. I always figured one day that we'd just decide to do it or not. So his proposal actually came as a shock.

On Valentine's Day last year, we got a babysitter for the kids and went to our favorite Italian restaurant. As we were eating dinner, I reached into the bread basket and to my surprise, found a velvet gift box instead. By the time, I could open it, Don was asking me to marry him. I was so floored that I couldn't stop crying. We are getting married in May."
Dexie and Scott (married 11 years)
Dexie and Scott had been dating only about six weeks, when he proposed.

From Dexie: "Scott actually asked me to marry him over the telephone. So there was no getting down on one knee and presenting a ring. He asked me on the phone on his birthday. We bought the rings together and he put the ring on my finger in a bathroom.

We got married three months later and have been happy ever since."
Veronica and Bo (engaged)
Veronica always dreamed of a romantic proposal and she definitely got it from Bo.

From Veronica: "One afternoon Bo took me to our favorite park - one which we early in our dating relationship named Paris Park. The story behind the name: I had always daydreamed about how romantic it would be to meet my future husband in Europe. I envisioned my crossing a bridge one way and he coming across it from the other direction, the two of us meeting in the middle, our eyes meeting, and then us deciding to travel on together forever.

Our first time at the park, about a month into our dating relationship, I told Bo what I had imagined and he had us re-enact it. We pretended a football goal, near our bridge was the Eiffel Tower. It was really sweet.

So on this particular day, Bo went to Jim's (local diner) and bought tortilla soup (my favorite) and packed it and a blanket and would only tell me that we were going on a picnic. We got to the park and went to a spot near our bridge at which point Bo presented me with three gorgeous sunflowers.

We ate lunch and then Bo asked me if I wanted to go for a walk, like we did the first time we ever went to the park. We went over the bridge and Bo stopped in the middle of it and kissed me - our first kiss on our bridge.

Then Bo said, 'Do you remember when you told me about your daydream of meeting your future husband on a bridge in Europe?'

Then he went to re-enact it, which I at first didn't think anything of because Bo is sweet and sentimental like that. But as I walked across the bridge to go to my side of it for the re-enactment, it suddenly occurred to me: 'Wouldn't this be a super romantic way to propose?'

I met Bo in the middle of the bridge and he was narrating the re-enactment and he said, 'You're in Europe on the bridge and crossing it. You see a guy ...'

'A really good looking one,' I interjected.

Bo went on, 'You run into each other and then he gets on his knee and asks, Will you marry me?' By this point Bo was on his knee holding out towards me the most gorgeous engagement ring ever. And I said: 'Seriously????? Yes!!!!'"
Go on to the next page to read more great marriage proposal stories.