Internet Dating
Best And Worst
In today's high-tech world, online dating is extremely popular. Users sign up for the dating sites, create a profile and begin connecting with potential partners. Though some people have had great success with online dating, others haven't been so lucky. Here are some real life stories from both sides.
(page 2 of 2)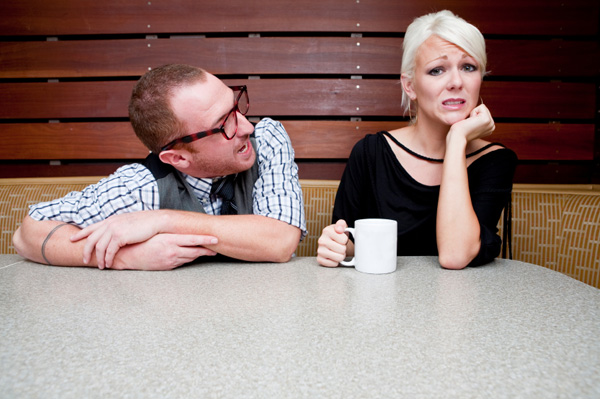 The bad
Though many online dating stories end in romance and even marriage, other daters aren't so lucky.
Sam
I moved to Boston for work and used Yahoo! Personals to try to meet some nice girls in the area. I read the profile of a woman named Susan - we seemed to have a lot in common. She was new to the area, worked in a similar industry, never married, no kids and she looked beautiful. We agreed to meet for dinner at a casual restaurant in my neighborhood. She told me that she'd be wearing a red jacket so that I couldn't miss her. I was sitting at the table and in walks this woman in a red jacket. She looked nothing like the picture, so I figured it wasn't her. My Susan was supposed to be 27 years old and physically fit. This woman was about 45 and very, very obese. Before I knew it she came up to the table and introduced herself. The 90 minute dinner seemed like an eternity. She explained she lied on profile because she didn't think she'd get a decent man if she told the truth. Susan was not just overweight and older than expected, she was whiny, insecure and annoying. I never saw her again.
Kenneth
I tried the online dating thing for about a year. Most of the girls were average or below average in personality and looks. I can't believe how much they lied on their profiles. But the worst was this woman named Leslie who couldn't stop crying at dinner as she explained to me how everyone was dying around her - her mother, cousin, a co-worker, even her cat. I couldn't get out of the restaurant fast enough.
Janie
I had been registered with Match.com for several months. I had gone on a lot of fun dates and met some great guys, but I was still searching for "the one." I connected with a guy named Rich. He had a handsome face and a smile to die for. We agreed to meet up for lunch. The conversation went well at first, but after about an hour, he said, "Do you want to go back to my place? I have another date in a couple hours but maybe we can get in a quickie before I have to go." I was floored! I left the restaurant and threw away his number.
Jessica
My sister met her husband on eHarmony.com, so I figured it was a good place for me to start looking when I was in the market for a new boyfriend. Needless to say, things didn't work out as well. My first date had been unemployed for a year and was living off his grandparents. The second one was a sleazebag who tried to grope me at dinner. I swore off internet dating after that. Maybe it's just not for me.
Tiffani
I have a few friends that had success with online dating, so I decided to try it myself. I had been out of college for a few years and had been having trouble meeting guys my age. All my colleagues and associates from work are much older than me. I arranged to meet up with a guy from the dating site at a local pub near my house. I was shocked when I walked in and saw him sitting at the bar cozying up with another woman. I walked up and introduced myself. He introduced himself and his companion. When the woman noticed how shocked I was at the situation, she quickly explained that they were looking for someone for a ménage à trois and they thought since I wrote that I was "adventurous" on my profile, that I'd be interested. Needless to say, I left the bar before even ordering my first drink.
Dating and relationships