Christmas Food
Favorites
Christmas is one of the most festive holidays on the calendar. If you are searching for the perfect holiday recipes, don't miss our top 10 favorite Christmas foods and drinks.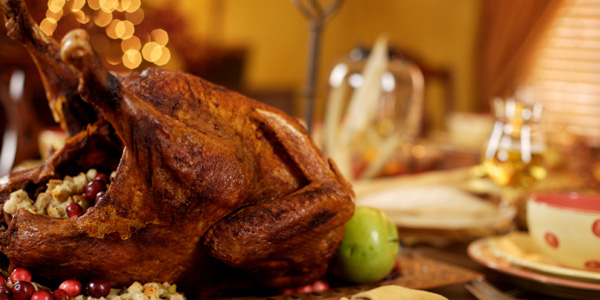 1. Apple cider
Apple cider recipes
Warm up your holiday get-togethers with a mug of apple cider. Consider these delicious apple cider variations or use them as inspiration to come up with a few of your own.
2. Egg nog
Homemade holiday egg nog recipes
What is Christmas without a holiday nog? If you are the type of holiday purist who refuses to buy nog in a carton, you'll love stirring up one of these rich and creamy egg nog recipes (there is even a Skinny Nog for the diet-conscious!).
3. Leg of lamb
Stuffed Leg of Lamb with Mint Pesto
An elegant holiday entrée, a juicy slice of boneless lamb spiraled with a homemade mint pesto will make for a memorable mouthwatering affair.
4. Roasted Turkey
A new way to roast turkey
If the turkey bones are getting in the way of you carving perfect slices for the Christmas feast, try roasting a boneless turkey. Not only is deboning easy, your boneless turkey cooks faster – a bonus when you need the oven to finish up the sides or pies.
5. Turkey Stuffing
Cornbread Turkey Stuffing
A simple cornbread stuffing can often be the most loved side on the Christmas table. Moist, fluffy and flavorful, this recipe is a comfort food all by itself.
6. Candied sweet potatoes
Candied sweet potatoes
If you like upping the sweetness of your sweet potatoes, give these candied sweet potatoes a place on your Christmas table. (If those aren't sweet enough, give the Bourbon Sweet Potato Pie a try!)
7. Cranberry sauce
Homemade cranberry sauce recipes
Though cranberry sauce in a can is a convenient grab, its flavor pales in comparison to a homemade simmered sauce with ruby red berries and your choice of signature ingredients.
8. Pumpkin Pecan Pie
Pumpkin Pecan Pie with Cognac Whipped Cream
Love pumpkin but can't pass up that rich, nutty slice of pecan pie? Give yourself a double treat – make a pumpkin pecan pie and top it off with a cognac-spiked whipped cream.
9. Christmas cookies
Our best Christmas cookie recipes
Whether you are giving family and friends gifts from the kitchen or organizing a Christmas cookie swap, peruse our scrumptious list of cookie recipes – including our five favorites.
10. Christmas candy
Quick and easy Christmas candy recipes

Get ready for fudge, butter toffee and hard candy in minutes with these time-saving holiday candy recipes made in the microwave. Perfect for last minute gift giving!