5 Must-Bake Christmas Cookies
-˜Tis the season for giving gifts from the kitchen or attending a Christmas cookie swap. Whatever the reason, we're sharing our best batch of cookie recipes especially for you. Bake one or bake them all - but keep in mind these cookies won't last long!
(page 5 of 5)
5. Chocolate Peppermint Brownies
Makes 2 dozen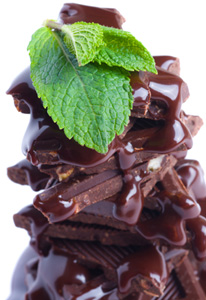 Chocolate and mint are made for eachother - and these brownies prove it.

Brownies:
1 cup (2 sticks) unsalted butter, softened
1-3/4 cups granulated sugar
4 large eggs
1 teaspoon pure vanilla extract
1-1/4 cups all-purpose flour
3/4 cup unsweetened cocoa powder
1/2 teaspoon baking powder
1 (10-ounce) package Andes Peppermint Crunch baking chips
1 cup Andes Creme de Menthe baking chips
Chocolate frosting:
1/2 cup (1 stick) butter, melted
1/3 cup unsweetened cocoa powder
2 cups confectioners' sugar
1 teaspoon pure vanilla extract
2 tablespoons milk or cream

Directions:
1. Preheat oven to 350 degrees F. and grease a 13x9-inch baking pan. In the bowl of a stand up mixer fitted with the paddle attachment, cream butter and sugar until light and fluffy. Add eggs, one at a time, beating well after each addition. Mix in vanilla.

2. In a medium-sized bowl, whisk together flour, cocoa and baking powder. Add flour mixture to butter mixture, blending on low speed until well-combined. Stir in peppermint chips. Transfer batter to prepared baking pan. Bake for 35 minutes or until set.

3. Meanwhile, in a large bowl, using a hand-held electric mixer, beat together butter, cocoa, confectioners' sugar, vanilla and milk until just moist. Increase speed to high and continue to beat until smooth. If mixture is too thick, add a bit more milk or cream.

4. Remove brownies from oven and set pan on a wire rack to cool. Spread with chocolate frosting and sprinkle with Crème de Menthe baking chips. Slice and serve.


Can't get enough cookies? Here are a few more!
Guilt-free healthy holiday cookie recipes
Peanut Butter and Chocolate Cookies
Delicious cheese cookie recipes
Lemon Poppyseed Cookies
S'mores Sandwich Bar Cookies
Coconut Oatmeal Cookies
Low-glycemic Cinnamon Nut Cookies
Cinnamon Apple Drop Cookies