5 Must-Bake Christmas Cookies
-˜Tis the season for giving gifts from the kitchen or attending a Christmas cookie swap. Whatever the reason, we're sharing our best batch of cookie recipes especially for you. Bake one or bake them all - but keep in mind these cookies won't last long!
(page 2 of 5)
2. Chocolate Mocha Snowcap Cookies
Makes 3 dozen
Reminiscent of snow covered mountains, these wintry cookies combine the richness of chocolate and the beloved flavor of coffee.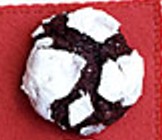 Ingredients:
1 cup all-purpose flour
1/2 cup unsweetened cocoa powder
3 tablespoons instant espresso
2 teaspoons baking powder
1/4 teaspoon salt
1/2 cup (1 stick) unsalted butter, room temperature
1-1/4 cup firmly packed light-brown sugar
2 eggs
8 ounces high-quality bittersweet or semisweet chocolate, melted, cooled
2 tablespoons milk or cream
3/4 cup confectioners' sugar, for coating

Directions:
1. In a medium-sized bowl, whisk together flour, cocoa, espresso, baking powder and salt. In a second medium-sized bowl, with a hand-held electric mixer, beat butter and brown sugar until light and fluffy. Beat in egg until well combined and mix in cooled chocolate.

2. With mixer on low speed, gradually add flour mixture. Add milk and beat until combined. Dump dough onto a piece of wax paper and flatten dough into a disk. Wrap in plastic and freeze until firm, about 45 minutes.

3. Preheat oven to 350 degrees F. and line two baking sheets with parchment paper. Shape dough into 36 (1-inch) balls. Place confectioners' sugar into a wide shallow bowl. Working in batches, roll balls in sugar until well-coated.

4. Place balls on prepared baking sheets, about 2 inches apart. Bake for 12 minutes, rotating sheets halfway through, or until cookies have spread and sugar coating is cracked. Transfer to a wire rack to cool completely.