Thanksgiving Side Dishes
Looking for something different at the last minute as a side dish on Thanksgiving. These Southern recipes will add some flavor to your holiday table. Recipes include chunky cheddar smashed potatoes, Southern style greens and a delicious dried fruit relish.
(page 3 of 3)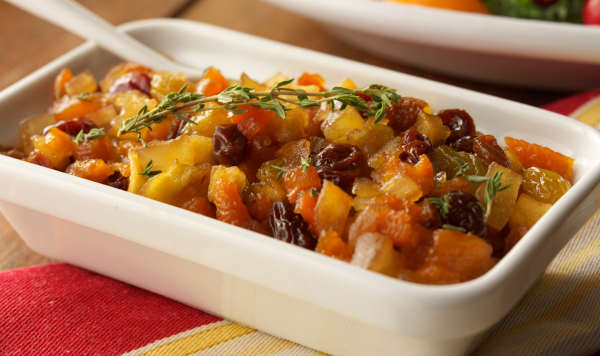 Dried fruit and cider relish recipe
Servings: 4-6
Estimated Times
Preparation time: 15 minutes
Total time: 30 minutes
Ingredients:
2 – 6-ounce packages dried fruit blend, diced
2 1/4 cups apple cider
1 tablespoon oil
1 tablespoon onion, diced small
2 tablespoon apricot preserves
1 sprig fresh thyme (optional)
Salt and pepper as needed
Instructions:
Place diced dried fruit in a medium-sized bowl. Warm apple cider in a sauce pan until simmering then pour over the dried fruit. Dry empty sauce pan and return to medium heat. Pour oil into sauce pan, add onions and cook for 2 minutes. Add fruit and cider, apricot preserves and fresh thyme. Bring to a simmer and cook until fruit is soft and sauce is thickened. Adjust seasoning with salt and pepper.
These and other holiday recipes can be found at Honeysucklewhite.com.
Holiday recipes
Vegetarian Thanksgiving
Turkey day leftovers
Thanksgiving cocktails