Holidays In
New York
Nothing is more magical than the sparkle, twinkle and glitter of New York City at Christmastime. Add a little snow and the smell of roasting chestnuts and you have the experience of a lifetime. Here are some ideas of what to see. Keep in mind many of them are FREE.
(page 3 of 4)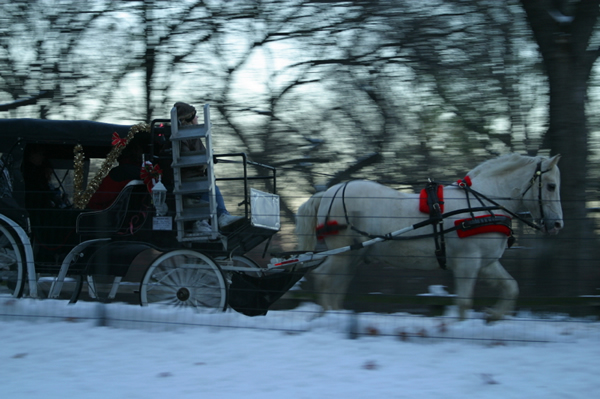 Central Park
http://www.centralparknyc.org/site/PageServer?pagename=aboutpark_main
Plopped right in the middle of New York City's Manhattan Island are the 843 beautiful, wooded acres of Central Park where hills, trees and lakes are crowned by skyscrapers in the background. At Christmastime, the trees surrounding the famous Tavern on the Green restaurant are covered from top to bottom with twinkling white lights, giving the appearance of a beautiful winter ice storm. When the air is crispy cold and still, you can hear the clop clop of horse hooves as horse drawn carriages make their way through the park dressed in holiday ribbons and greens. Volunteer led tours thorough the park are available and free.
Grand Central Station
http://grandcentralterminal.com/
The famous Sky Ceiling, walls, and pillars of Grand Central Terminal are the backdrop for a spectacular laser light show display. The laser lights comes alive every 1/2 hour and are sure to grab everyone's attention. In between light shows, enjoy shopping the Christmas craft and gift market in the 12,000 square foot Vanderbilt Hall, where 76 vendors of unusual and exotic international goods will give you a good reason to buy just one more gift. If you're there on Christmas Eve, you might even catch the indoor fireworks!
Holiday Train Show
http://www.mta.info/mta/museum/general.htm
See model trains running through a beautiful holiday landscape that include miniature replicas of New York City landmarks. This is at the New York Transit Museum in Grand Central Terminal and admission is free.
World Financial Center / Winter Garden
http://www.worldfinancialcenter.com/calendar/
One hundred thousand lights flood the inside of this tall, glass domed pavilion. The atrium is 125 feet high includes 2000 panes of glass. In the garden among 16 forty foot palm trees you might see Santa and his elves and carolers too. A stroll around the Winter Garden is spectacular enough, but you can check their website for schedules of their many free holiday events, as well.