Holidays In
New York
Nothing is more magical than the sparkle, twinkle and glitter of New York City at Christmastime. Add a little snow and the smell of roasting chestnuts and you have the experience of a lifetime. Here are some ideas of what to see. Keep in mind many of them are FREE.
(page 2 of 4)
FAO Schwarz
http://www.fao.com/home.jsp
If there ever was a "Toyland," this is it! The three-story toy store is bustling with kids of all ages interacting with toys. Yes, touching is OK! This is the store where you can find the floor piano made famous by Tom Hanks as he played it with his feet in the movie "Big." At certain times during the day, dancers come out and perform on the floor piano. There's also a beautiful working carousel inside the store.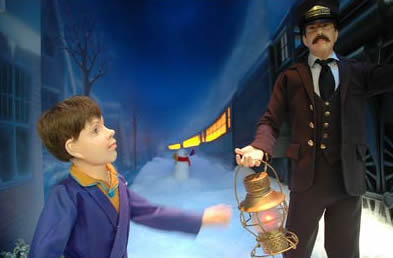 Department Store Windows
About.com: Top 8 2004 Christmas Window Displays
Children and parents in woolen hats and gloves exhale puffs of white clouds while standing affixed in front of rows of store windows. They're lost in the sparkling world of magic on the other side of the glass. For over one hundred years, all the best New York City department stores, including Bloomingdale's, Bergdorf Goodman, Barneys, Saks Fifth Avenue, Lord & Taylor and Macy's, have gone to great lengths to outdo each other with spectacular, elaborately themed holiday window displays. The dioramas bring winter scenes and Christmas days of old to life. There may be lines but there is no charge to view the windows.
Photo credit to: About.com: http://gonyc.about.com/od/photogalleries/l/bl_polar01.htm
Macy's
http://www.macys.com/
At Macy's 34 Street, children walk through the "real" Santa's Workshop, with its busy elves, as they make their way to that all important meeting with the big man in the red suit. Grown-ups are especially intrigued by the enormity of Macy's. The 1902 art deco department store covers an entire city block, has ten floors of shopping and boasts one of the few wooden escalators still in operation.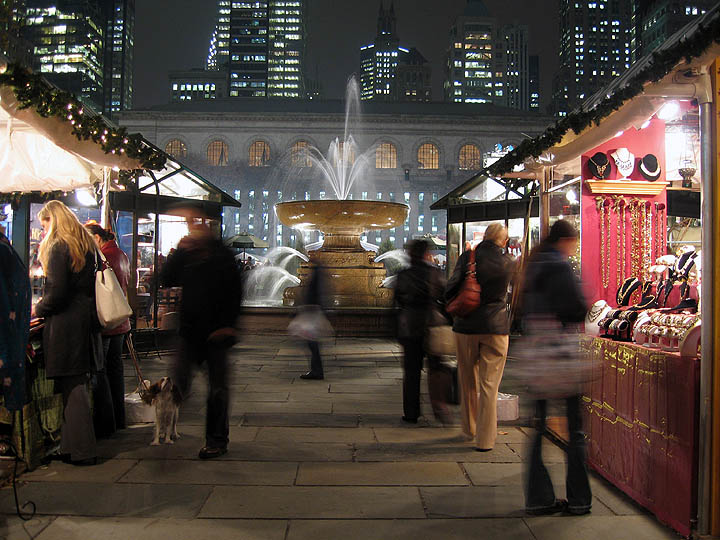 Bryant Park
http://www.bryantpark.org
This outdoor European-style holiday market with over 120 artisans has a unique selection of gifts from around the world. The 100 individually crafted and decorated booths are located throughout the park and around the pond. Brave the cold and make time for some free ice-skating on the park's rink or take a spin on Bryant Park's Le Carrousel.
Photo credit to: http://www.bryantpark.org/amenities/shops.php