Top 10
Cookbooks
Looking for the perfect cookbook for your foodie friends or that family member who really needs to learn how to cook? Good news, this year's top 10 picks will help you choose a book that satisfies the extreme foodie on your gift list as well as the novice cook looking for how-to's on everything from the basics of cooking to easy, elegant entertaining to deliciously preparing vegetarian fare.
(page 9 of 10)
9. Martha Stewart's Cooking School: Lessons and Recipes for the Home Cook
Author: Martha Stewart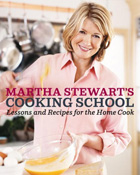 Arranged by cooking technique, Martha Stewart's Cooking School gives readers easy to follow instructions that will have them comfortably prepping and cooking Stewart's recipes as well as many others. Even better, it presents step-by-step photographs, which seamlessly guide readers from cookbook to cooking. With 175 recipes covering roasting, broiling, sauteing, steaming, poaching and more, you will look forward to putting Stewart's lessons to use. As with all of Stewart's work, you can feel confident that Martha Stewart's Cooking School presents a no-fail guide to learning your way around the kitchen.