Top 10
Cookbooks
Looking for the perfect cookbook for your foodie friends or that family member who really needs to learn how to cook? Good news, this year's top 10 picks will help you choose a book that satisfies the extreme foodie on your gift list as well as the novice cook looking for how-to's on everything from the basics of cooking to easy, elegant entertaining to deliciously preparing vegetarian fare.
(page 7 of 10)
7. The Bon Appetit Fast Easy Fresh Cookbook
Author: Barbara Fairchild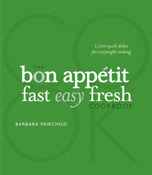 A collection of over 1,000 recipes inspired by the Fast Easy Fresh section of the renowned food magazine Bon Appetit, this cookbook makes gourmet cooking a quick and easy endeavor for every day cooking. Imagine sitting down to a near effortless dinner of Roasted Garlic Beef Stew and Peach Pie with Berry Jam. With these simple and straightforward recipes, you can get a great-tasting meal to the table every night of the week without spending a great deal of time in the kitchen. Full of fresh ingredients and bright flavors, you can feel good about feeding your family healthy, wholesome meals contained in this must-have cookbook. The Bon Appetit Fast Easy Fresh Cookbook is the perfect gift for you and for the other busy loved ones in your life.