Top 10
Cookbooks
Looking for the perfect cookbook for your foodie friends or that family member who really needs to learn how to cook? Good news, this year's top 10 picks will help you choose a book that satisfies the extreme foodie on your gift list as well as the novice cook looking for how-to's on everything from the basics of cooking to easy, elegant entertaining to deliciously preparing vegetarian fare.
(page 6 of 10)
6. Under Pressure: Cooking Sous Vide
Author: Thomas Keller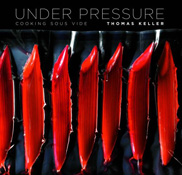 Want to be on top of the culinary trends? Buy this book. Under Pressure is an excellent how-to of the revolutionary technique of cooking called sous vide, a method of sealing food in plastic and submerging it at low temperatures for minutes or for days. Food that is traditionally braised, sauteed, roasted or poached can be cooked sous vide to create the most succulent, moist and tender dishes. In his book, Keller shares a collection of never-before-published recipes from his landmark restaurant The French Laundry, located in Napa Valley, and per se in New York, proving that sous vide is a superior method for cooking. Not necessarily for the amateur cook, Under Pressure gives the professional or daring chef the know-how to prepare meals in a revolutionary way.