Top 10
Cookbooks
Looking for the perfect cookbook for your foodie friends or that family member who really needs to learn how to cook? Good news, this year's top 10 picks will help you choose a book that satisfies the extreme foodie on your gift list as well as the novice cook looking for how-to's on everything from the basics of cooking to easy, elegant entertaining to deliciously preparing vegetarian fare.
(page 5 of 10)
5. Bakewise: The Hows and Whys of Successful Baking
Author: Shirley Corriher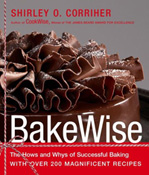 A must-have for the beginning baker as well as the expert, Bakewise is a collection of 200 delectable recipes and practical tips to create penultimate baked goods. From brownies to baguettes, James Beard Award-winner and author of Cookwise, Corriher shares her chemistry-influenced insight along with that of other artisanal bakers and pastry chefs. In addition to getting the optimal ways to create divine desserts and perfectly baked bread, you also learn why the cookie crumbles or seemingly perfect meringues shrink. Bakewise is part cookbook, part instructional and part baking troubleshooter – a book for those who live to bake and those who simply want to understand it better.