Top 10
Cookbooks
Looking for the perfect cookbook for your foodie friends or that family member who really needs to learn how to cook? Good news, this year's top 10 picks will help you choose a book that satisfies the extreme foodie on your gift list as well as the novice cook looking for how-to's on everything from the basics of cooking to easy, elegant entertaining to deliciously preparing vegetarian fare.
(page 4 of 10)
4. Giada's Kitchen: New Italian Favorites
Author: Giada De Laurentiis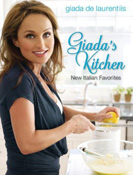 Always a favorite, De Laurentiis, the host of Food Network's Everyday Italian and Giada's Weekend Getaways presents an updated array of delectable Italian-inspired dishes. Italian food is meant to satisfy and is often hearty, rich and filling. Giada's Kitchen gives you the satisfying flavors associated with Italian food but innovatively transforms them into lighter, healthier fare. For the busy mom or dad who loves to cook, Giada's rave-worthy recipes are streamlined for ease, composed of bright colors and flavors, and versatile enough to be served as every day meals as well as dressed up for more elegant affairs. If you love Italian and are looking for a lighter – but no less flavorful – take on Italian fare, you'll love Giada's Kitchen.