Top 10
Cookbooks
Looking for the perfect cookbook for your foodie friends or that family member who really needs to learn how to cook? Good news, this year's top 10 picks will help you choose a book that satisfies the extreme foodie on your gift list as well as the novice cook looking for how-to's on everything from the basics of cooking to easy, elegant entertaining to deliciously preparing vegetarian fare.
(page 2 of 10)
2. Hungry Girl: Recipes and Survival Strategies for Guilt-Free Eating in the Real World
Author: Lisa Lillien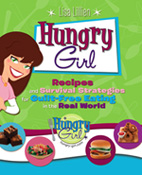 With nearly a cult following, Hungry Girl author Lisa Lillien provides easy to incorporate healthy eating tips and recipes for readers looking for practical advice and guilt-free meals. Perhaps one of the most debated cookbooks, you will either love or hate the Hungry Girl philosophy. Some people claim Lillien's book has helped them lose weight while others bash her frequent use of Splenda. Though ideal for your friends or family members that want simple lower-calorie, lower-sugar and lower-fat recipes, Hungry Girl is probably not the top pick for the admant foodie on your gift list.