Christmas Decorating
Be inspired by these glamorous Christmas tree photos and gather ideas for how to decorate your home and tree luxuriously this year.
(page 3 of 25)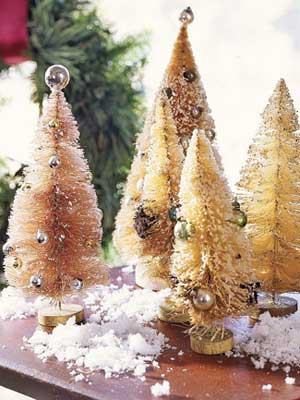 3
Big Isn't Always Better
Sometimes the most fabulous things come in the tiniest packages. Case in point: These miniature tabletop antique trees. They add a festive touch to a table, especially the dinner table (try them as a centerpiece!). These here are complete with their original ball ornaments from the 1940s -- instantly creating a mood of holiday nostalgia. Reproductions are sold at most Christmas shops.
---
Reprinted with Permission of Hearst Communications, Inc. Originally Published: 25 Ways to Decorate Your Christmas Tree Now
Up next: Santas, Stockings and Snowflakes >>