Green Gifts
For Dad
Here is a quick look at a few brand new items that could be just right for the dad who is living a green lifestyle or becoming known as an eco-friendly "Earth Father." These eco-friendly Father's Day gifts can be ordered quickly at OrganicStyle.com.
Heavenly Chocolate Trio
$39.95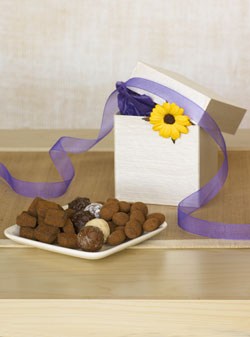 For fathers with a yen for chocolate and prefer their artisan-crafted chocolate three different ways, get them a premium gift box of Swiss Certified chocolates, truffles and chocolate covered almonds.
Dad can enjoy pure dark chocolate squares lightly dusted with cocoa powder or dive into a bowl of deep roasted, caramelized almonds double-dipped in dark chocolate and dusted with cocoa powder or savor Organic Style's signature truffles in decadent white, dark and milk chocolate, Cognac and whipped caramel flavors.
Delivered in a hand-painted, pearl white box decorated with sheer lavender ribbon and sunflower, this exquisite gift is sure to please even the most discriminating chocolate-loving Dad.
The Heavenly Chocolate Trio includes 15 dark chocolate squares, 1/8-pound of chocolate covered almonds, and five truffles.
Miniature Blood Orange Tree
$64.95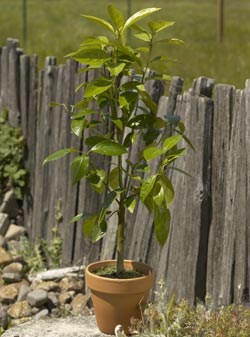 This VeriFlora certified miniature blood orange tree holds a sweet surprise. Not only is it space-efficient, it also grows full size fruit! A juicy blood orange is sweeter than the navel oranges you are used to, and the flesh of these scintillating citrus fruits has a unique red hue.
The best thing about having one of these two-foot orange trees at home is that they can grow juicy full-size blood oranges just like the ones grown in a large orchard, all the while taking up a very small footprint in your dad's house or on his patio.
Flowering in the spring, holding fruit all summer, and providing a juicy autumn to winter harvest, your dad doesn't even have to have a green thumb to successfully grow this dimunitive citrus tree.
Shipped to dad in a naturally beautiful six-inch terra cotta pot with a tray, dad will enjoy his Miniature Blood Orange Tree all year round while contributing to a healthy, natural lifestyle.
Wine Grape Bonsai
$64.95
VeriFlora certified, these wine grape bonsai plants are 10-year old wine grape specimens, that literally bring an authentic piece of California's Wine Country heritage to a deserving father's home.
This bonsai is grown best on a patio that is protected from inclement weather, but it will do equally well in any shaded spot. The Wine Grape Bonsai is planted in a natural ceramic bonsai container and grows to approximately 10 inches tall.
100 percent Tree Free Journal
$22.95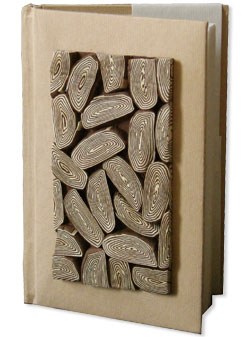 If your dad journals his daily thoughts or enjoys sketching art or designs in a notebook, give him an eco-friendly journal he can feel good about using.
This journal is made from 100 percent recycled cotton rags and remnants. The "wood" look on the front is made by rolling long sheets of the cotton paper and then slicing them into tree like medallions. 
Inside the journal your father will find acid-free, cotton paper that is gorgeous, heavy and finely textured. This journal will beg your dad to set his imagination loose on its pages.
The Tree Free Journal comes with covers in either moss or twig colors and the paper inside is white. 
More tips for Father's Day
Throw a neighborhood block party for Father's Day
Father's Day: 5 Tips for making Dad's day special
Father's Day gifts: Fitness gadgets