Gift-Buying Tips
For Your Kids
Sunshine will be attending four birthday parties in the next nine days. That's a lot of cake, not to mention a serious sugar roller coaster and a gift buying spree.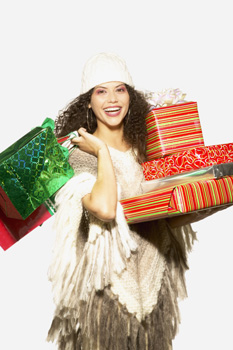 Buying gifts for kids' birthday parties often perplexes me. I usually don't know the kid very well, and of course there's a general budget to keep. Different families have different likes and dislikes, of course. I hate Play-Doh, for example, while some families love the stuff.

I started making a little ritual for buying gifts for kid birthday parties, and I get my invited child involved, which is sometimes harder than just picking up some random thing off the sale table.

Here's my ritual:
RSVP for real
When I RSVP my child for the party, I make sure I talk to an actual parent and ask what the birthday child would like or is into – and what the parent never wants to see again. Usually the parent will respond "anything" to the first part of the question, then initially answer "nothing really" to the second part before finally admitting that they'd prefer something without batteries, or something like that. Ah ha.
Quiz time
Before shopping for the party (and I shop very close to the party itself), I talk with my child about the birthday child. What do they like to play together? What does the child like to play with other kids?
Watching the wallet
I talk to my child about a budget. And we absolutely have a budget for this ($15 for close friends, $10 for less close friends). We talk about how we will not exceed this budget at the toy store. The budget helps in so many ways. I teach a little bit about money management and the gift itself is usually small. Who needs more stuff? And when we give a birthday party, the point is our friends joining us for a fun time, not the loot.
Become a toy store regular
I patronize a toy store with a rewards program, and a locally owned store at that. They know me. They record my purchases and when I make a certain number of purchases, they average the total and I receive that amount in a store credit. Also, I often receive coupons from this store. Bonus.
No bonus gifts
My child is reminded of the budget as we enter the store, then I try to let my child make the final choice with any guidelines from the parents in mind. I remind my child frequently that we are thinking about what their friend wants, not what they want. We've had some great finds; just the right thing at just the right price.
Frilly perks
My toy store of choice wraps free of charge, and I always take advantage of it. This way my child doesn't get too tempted by the unwrapped toy in the house. I also save the receipt and give it to the parents separately, just in case.

The most important part for me in this ritual is that my child is choosing the gift while maintaining a budget. It helps to teach them a little bit about the value of money while thinking about what would make their friend happy. I hope that along the way they learn how much fun and enjoyable it can be to give a really good, appropriate gift, but also that birthday parties are not about the gifts, but about sharing time with friends.

Sunshine is going to have a great time at these parties.