Holiday Side Dish
Sweet potato soufflé is a delicious dish that your whole family will love. Sweet potatoes are very nutritious and can be used to make a variety of dishes from entrées to desserts.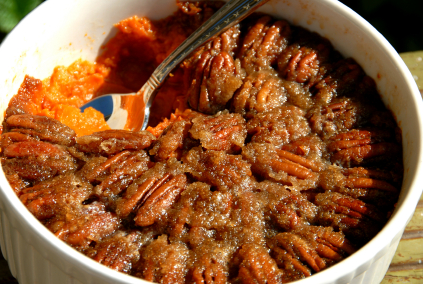 Ingredients
2 cups sweet potato (~5 medium sweet potatoes)
1 cup sugar
3 eggs
3/4 cup butter
1/2 cup milk
1 tsp. vanilla
1 tsp. cinnamon
Topping
1 cup brown sugar (packed)
1/3 cup flour
1 tsp. cinnamon
1 cup pecans (chopped)
1/4 cup butter (melted)
Directions
Peel sweet potatoes and chop into 1-inch chunks.
Place in pot of water and boil until tender.
Mash potatoes in a large bowl with sugar, eggs, butter, milk, vanilla and cinnamon.
In a separate bowl, combine ingredients for topping.
Pour mashed potatoes into a baking dish.
Sprinkle topping over top.
Bake at 350 degrees F for 30 minutes.
Another quick dessert or side dish is sweet potato puree with cinnamon. Boil sweet potatoes and whip with butter, cinnamon and vanilla.