Thanksgiving Dressing Without Carbs!
Looking to serve a lighter, more healthful stuffing this Thanksgiving? This low carb, gluten-free recipe is definitely one to try.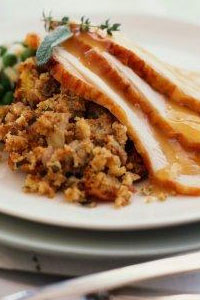 Apricots are lower in carbs than many fruits, but if your low carb plan requires that you avoid fruit at the moment, leave this recipe for a later date -- but keep it handy, because it really is delicious!
This recipe can stuff both turkey and chicken, and goes very well with pork dishes when baked in a pan and served separately.
Deborah's apricot-ginger stuffing recipe
Makes 15 (1/4-cup) servings
Ingredients:
4 tablespoons salted butter
1 large onion, finely chopped
2 cups almond flour
1-1/2 cups apricots, chopped (fresh or canned in water, drained)
1 teaspoon ground ginger
2 tablespoons fresh parsley, chopped
3 tablespoons lemon juice
1/2 teaspoon salt, or to taste
1/2 teaspoon ground pepper, or to taste
Directions:
1. Melt the butter in a large skillet. Add the chopped onion; cook for 5 to 10 minutes until softened.
2. Add the remaining ingredients; mix well. The mixture should come together and look fairly wet, but if it doesn't, add a few tablespoons of water until it holds together in the pan.
3. Stuff turkey with mixture, then weight to calculate the complete cooking time. Roast as directed.
Per serving: 5.6g carbs, 2.0g fiber, 9g total fat, 8mg cholesterol, 3g protein, 101mg sodium, 113 calories