Thanksgiving Side Dishes
Health and beauty guru Kat James shares some advice and low-carb Thanksgiving recipes for cranberry sauces and stuffing.
(page 2 of 3)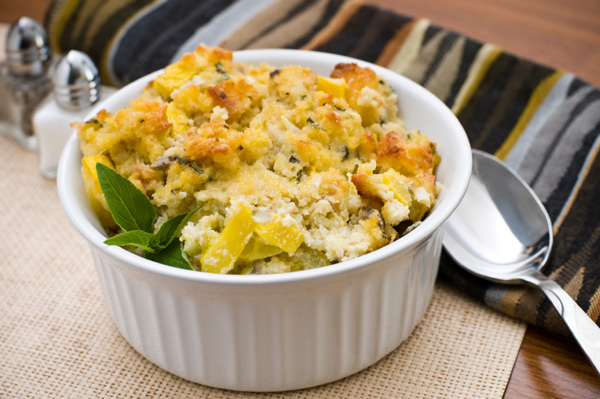 Kat's hearty stuffing with nuts and apples
"This is a healthier play on my mother's wonderful stuffing with apples. By replacing the old, hydrogenated croutons with croutons fiber-rich, tasty low-carb bread, even a decadent variation such as adding sausage still renders a far healthier stuffing that is also more satisfying," says James. Sausage is optional.
Ingredients
1 loaf low-carb hempseed bread (such as French Meadow Bakery)
3/4 pound butter, organic preferred
1 large white onion, diced
3 large stalks celery, diced
1-3/4 cups chicken stock, organic preferred (such as Imagine brand)
3 tablespoons ground sage (or 1/4 cup fresh, processed in a food processor)
5 large apples, washed, cored, diced large with skin
2 cups walnut pieces
3 large eggs, beaten, organic preferred
Optional: 1 1/2 pounds ground free range pork sausage
Nonstick cooking spray
Directions
1. Preheat oven to 350 degrees F.
2. Prepare large baking dish with nonstick cooking spray. Toast walnut pieces at 250 degrees F for approximately 20 minutes (or until they begin to smell like popcorn).
3. Cut bread into crouton-sized cubes. Toast croutons for about 25 minutes at 250 degreesF , turning to crisp evenly.
4. In a small stockpot, heat butter, stock and sage on medium heat, stirring occasionally until boiling. Lower heat; add apples, celery and onions; simmer for another seven minutes.
5. Combine croutons and walnut pieces in a very large mixing bowl; stir in stock mixture from saucepan until croutons are evenly moistened.
6. Mix in beaten eggs; combine thoroughly.
7. Place stuffing in prepared baking dish; bake at 350 degrees F for 45 minutes, stirring once after 20 minutes. If stuffing a bird, stuff loosely and be sure that the internal stuffing temperature has reached at least 165 degrees before completing cooking.
Note: For a heartier touch, fold in 1-1/2 pounds browned free-range sausage and drippings before adding the beaten eggs.
Makes 16 (1/2-cup) servings.
Per 1/2 cup serving: 14.3g carbs, 4.9g fiber, 8g protein, 17g total fat, 49mg cholesterol, 182mg sodium, 236 calories
Next: Kat's Spicy Cranberry-Citrus Sauce