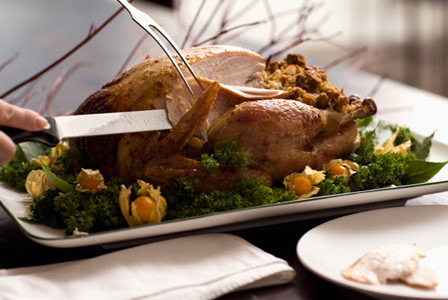 If you're looking for a new or better way to prepare a roast turkey this holiday season, you're not alone. Check out these turkey-roasting techniques from the executive chef at Honeysuckle White.
Thanksgiving turkey
The perfect bird
I find that a lot of people think that holiday meals are more difficult to prepare than they actually are. As a consequence, too many people are nervous when trying to cook for the holidays. If you're new to cooking or just want to try something different, easy-to-understand instruction is hard to find when trying to cook the perfect turkey. Roasting is the most popular way to cook a whole turkey, and there are basically three turkey preparing techniques:
Slow and low. Cooking at a low temperature (250°F) in a barbecue pit or smoker for long periods of time, sometimes as long as one hour per pound.
Traditional. Cooking at a moderate oven (325-350°F) for a reasonably long time (about 25 minutes per pound) with or without a flash of high heat at the beginning or the end of the cook cycle.
High heat roasting. Cooking at a very high heat (500°F) for a relatively short time (1-2 hours).
These are three distinctively different methods, but many times people are following a little bit of one and a little bit of another which leads to a poor cooking technique which often leads to a turkey that doesn't taste as good as it could. There are advantages and disadvantages to all three methods.
Advantages
The low-heat, high-moisture environment of a barbecue pit or smoker prevents the turkey from drying out. The slow cooking helps to break down the connective tissue for an extra tender bite.
Disadvantages
Cooking for a long time does not mean you can put the turkey in the smoker and forget about it for the night. Temperatures must be monitored to ensure proper cooking. Also, cooking this way does not result in normal browning, so without smoke or seasoning these low temperatures can produce a very bland product.
Advantages
Relatively fool-proof, this technique provides a well-flavored, moist bird with very little attention or expertise from the cook.
Disadvantages
Though faster than the slow and low method, traditional roasting still takes time and requires planning ahead. The flavors are subtle and show themselves best when accompanied by really good gravies, dressings and sauces.
Advantages
When done properly, this technique produces the most flavorful turkey. The high heat produces extensive browning and causes the meat to pick up the crispy skin flavor.
Disadvantages
When this technique goes wrong, it really goes wrong. The cook must be watchful that the bird is pulled from the oven at the right time to avoid dryness. It's also messy. The pan drippings can splatter over the inside of the oven and burn, causing smoke and messy cleanup.

More Thanksgiving recipes
Easy elegant holiday menu
Succulent Thanksgiving menu
Holiday travel tips for moms