Birthday Celebrations Times Two
Do multiples mean multiple cakes, gifts and parties?
(page 2 of 2)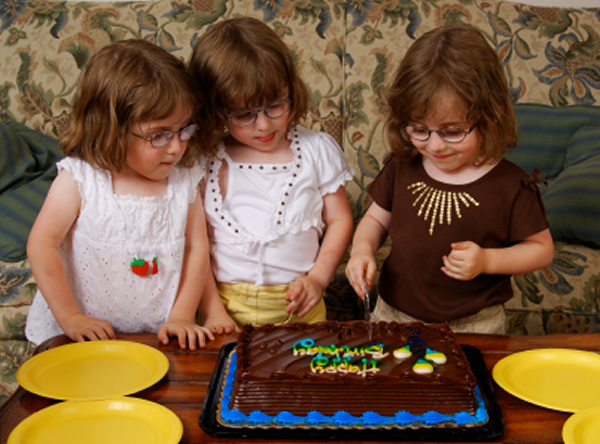 Simple is better
All mothers of multiples strive hourly to make life as simple as possible; birthday parties need not be an exception. When planning a birthday party for your multiples, keep in mind that having more simultaneous celebrators doesn't necessitate inviting more guests. In fact, for children under four years of age, it's best to keep the number of invites to a minimum so that the party does not become too overwhelming (for you or them!). If you have a large local family, one idea is to host separate celebrations, one for family and one for a few of the kids' friends.
The most common rule of thumb is to invite one guest for each of your child's years. In the case of multiples, it isn't necessary to double or triple that number. If your children are turning three, invite three or four friends. Keep the party short (One and a half to two hours at most), and fill the time with activities such as a craft, a game, a snack or light lunch, cake cutting and gift opening time. If there are a few minutes left over, letting the kids run around a bit to ensure an inevitable good nap is never a bad idea!
Celebrate together
When kids are under the age of five, there is no reason to provide separate birthday parties. Your children likely have many of the same friends and interests at this point. As your children get older (Kindergarten and up), if they do indeed have completely different friends and interests, you may find yourself needing to plan separate parties, but for now, keep it as simple as possible.
One way to make their party more personal is to let each child choose her own cake flavor and design. It doesn't require too much effort to make a ballerina cake for Nina and Bob the Builder cupcakes for George. Additionally, instead of hoping that your children can agree on a central theme for the party, take them to the party store and let each child pick out a package of plates, hats, and a few gift bag contents. This will encourage each child to put his own signature on the event.
Thank you, thank you
When it's time to write thank you notes, don't stress over whether or not it's required to send a note from each child -- especially when the kids aren't old enough to stay awake during their party!
When kids begin to understand the concept of thank you notes (around three years of age), you can write one from each child and have them sign their names at the bottom. Or they can dictate their thanks as you write the actual notes. Until then, feel free to simplify your life by writing one combined thank you note from both children.
Birthday celebrations are milestones in all children's lives. As they get older, they will likely begin requesting more and more detailed festivities based on a combination of their friends' parties and their own interests. Luckily, by that point, they'll be able to help more with the planning -- maybe even the cleanup!
For now, be in the moment with them as they render their faces green with frosting, provide more than a few classic photo opportunities, and fail to understand the significance of all the hoopla going on around them. Most important, be thankful for the long afternoon nap (or early bedtime) that will likely follow such a celebration.