How To... Have A First B-Day Party
While your one-year-old may not be up to party activities just yet, there's still many things you can do to ensure that the party is a hit for guests of all ages!
Step 1: Time it right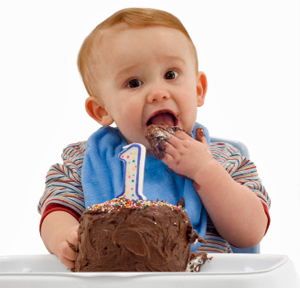 When it comes to planning the event, consider that early afternoon tends to be the best time for a birthday party. It allows you enough time to prepare for the guests, and also enough time to clean up afterward.
Step 2: Think about the theme
Put some time into choosing the party's theme -- you can get some birthday party theme ideas right here.
Step 2: Let the games begin
Some fun games to get all the kids involved include Pin the Tail on the Donkey, egg-on-spoon races, relays, treasure hunts, sack races and piñatas. GeoParent has a great list of noncompetitive party games that should give you lots of great ideas on how to include all guest in the fun.
Need some tips for a specific age group? Check out these age-by-age party guidelines!
Step 3: Surprise guests
A character visit can be an absolute smash -- have an adult relative or friend dress up as your child's favorite character. Costume rentals are easy and inexpensive at your local costume shop.
Or, hire an entertainer (think: cartoonist, clown, magician or balloon artist). Look here for tips on hiring an entertainer. Use your creativity when it comes to activities and the partygoers will be amazed at the fun they had at your child's party.
Step 4: Consider the food
Don't forget about the food! Get some great tips on party food for your baby's first birthday and also some easy kids birthday party recipes here.
Step 5: Have help at hand
If at all possible, get a few helping hands! Grandparents, a babysitter, older sibling or a few extra parents can be a huge help at your child's party. Prep each person on his or her individual area (activities, food, taking pictures, etc.) before the party begins.
Grab a few first birthday party money saving tips!
Step 6: Party favors
Before deciding on what kind of party favors to hand out, consider the ages of your young guests. Kids under the age of 3 need extra-safe toys. Make sure the toys are well-made and large enough to prevent being swallowed. Some favor ideas include beanbags, stickers, squeeze toys, Play-Doh and crayons.
Be sure to give a favor to each child, no matter how old or young -- and wrap up the favor or place it in a decorative party bag for additional festive flair. It's a special treat for kids to receive, and a joy to watch as your favors are unwrapped.
Find out how to make birthday party treat bags for $5!
Step 7: Make memories
Your child probably won't remember this first birthday party, so it's up to you to preserve the memories. First, be sure that at least one person is taking photos (snapshots are great -- not everything should be posed). Then, be sure that you are enjoying the moment, so that in years to come, you can share vivid remembrances of your child's special day.


For more tips on throwing your baby a first birthday party, see:
Birthday party themes, recipes, tips and treats!