Halloween Party
Halloween is creeping upon us! Here are some ideas to help make this year's Halloween bash the best yet!
(page 2 of 2)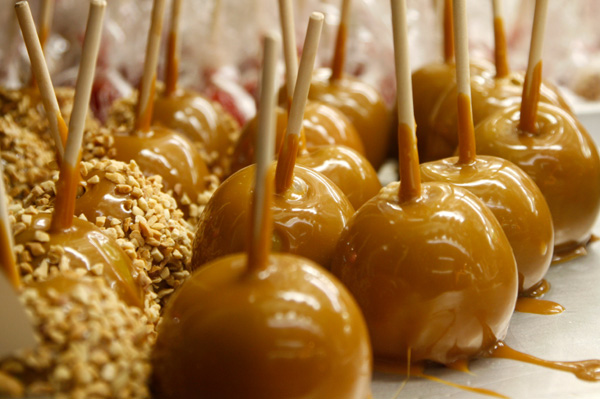 Caramel Apples
Serves 4
Ingredients:
Four apples, washed and air dried thoroughly
2 cups of sugar
1 tablespoon corn syrup
1/2 cup water
2 sticks of butter, softened at room temperature
1 cup heavy cream
Chopped nuts (optional), like walnuts or pecans
Pinch of salt
Sticks from the craft store, or small skewers from the meat department at your local grocery
Directions:
Prepare your apples by inserting the skewers firmly into the center. Place on a cookie sheet on top of parchment or waxed paper. In a saucepan, combine water, corn syrup and sugar. Stir with a wooden spoon. Allow to gently cook over a medium heat until caramel in color. Remove from heat and stir in the cream, butter and salt. Working quickly with the bone-dry apples, dip them into the caramel, then roll quickly in the nuts. Place them on the tray and continue until all apples are coated. Refrigerate for 15 minutes until firm and serve or wrap in cellophane bag.
Tombstone Cake
Ingredients:
2 boxes chocolate cake mix, baked according to directions and cooled
2 large boxes of instant chocolate pudding
1 bag of Oreo cookies, crushed in a bag with a rolling pin
Gummy worms
Directions:
Prepare and cool cakes and pudding. Crumble the cake into the pudding, mixing in a large bowl. Add the crushed Oreos and the gummy worms. Pile in a large roasting pan around the tombstone, which can be made out of cardboard and foil and decorated with markers. Put a small plastic shovel in the pan to serve with. Enjoy!
Popcorn Balls
Makes 15
2 1/2 cups unpopped popcorn.
Oil for popping
1/2 stick of butter
1 cup brown sugar
2/3 cup heavy cream
1/2 teaspoon vanilla
1/2 cup corn syrup
Directions:
Pop the corn in small 1/2-cup batches at a time. Put aside in huge buttered bowl. In a large pot, heat the butter, corn syrup and sugar, stirring well. Bring to a boil over medium heat. Stir in the cream. With a candy thermometer, check the temperature and remove at 238 degrees F. Add the vanilla. Pour the caramel mixture over the popcorn and stir well with a wooden spoon, so that all kernels are coated. With buttered hands, shape into balls and place into cellophane bags secured with wire twists.
More Halloween party tips
Bats and cats Halloween napkin rings
Free Halloween pumpkin carving design templates
How to have a Halloween party for a big crowd