Thanksgiving Dessert
Now that you have been to the orchard, what are your plans for all those apples you picked? Here are some delicious ideas for that classic, American tradition: apple pie.
(page 5 of 6)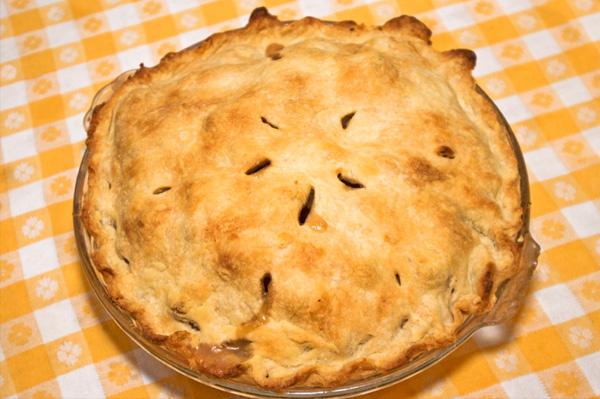 Whole Wheat Apple-Mincemeat Pie
Ingredients
Pastry
1 cup Pillsbury's Best Whole Wheat Flour
1 cup Pillsbury's Best All Purpose or Unbleached
2 tablespoons sugar
1/2 teaspoon salt
1/2 cup shortening
1/2 cup cold water
Filling
4 cups sliced, peeled apples (4 medium)
1 1/3 cups prepared mincemeat
1/2 cup sugar
2 tablespoons flour
1/2 teaspoon grated lemon peel
1 tablespoon lemon juice
Topping
1 egg white
2 tablespoons water
1 teaspoon sugar (1 to 2 tsp)
Directions
Heat oven to 375 degrees F. Lightly spoon flour into measuring cup and level off. In medium bowl, combine whole wheat flour, 1 cup all purpose flour, 2 tablespoons sugar and salt; blend shortening until mixture resembles coarse crumbs. Gradually add water to flour mixture while tossing and mixing lightly with fork.
Add additional water, 1 teaspoon at a time, until dough is just moist enough to hold together. Shape dough into 2 balls. Flatten balls; smooth edges. Roll 1 ball lightly on floured surface from center to edge into circle 1 1/2 inches large than inverted 9-inch pie pan. Fold dough in half; fit evenly into pan. Do not stretch. Trim bottom pastry even with pan edge. Roll out remaining dough; set aside.
In large bowl, combine all filling ingredients; spoon into pastry-lined pan. Top with remaining pastry; fold edge of top pastry until bottom pastry. Flute edge and cut slits in several places. Combine egg white and 2 tablespoons water; brush over crust. Sprinkle lightly with sugar. Bake at 375 degrees F for 40 to 50 minutes or until apples are tender. Makes 8 servings.
Contributor's Tip: Cover edge of pie crust with strip of foil during last 10 to 15 minutes of baking to prevent excessive browning.
Next: Crockpot Apple Pie