Thanksgiving Dessert
Now that you have been to the orchard, what are your plans for all those apples you picked? Here are some delicious ideas for that classic, American tradition: apple pie.
(page 2 of 6)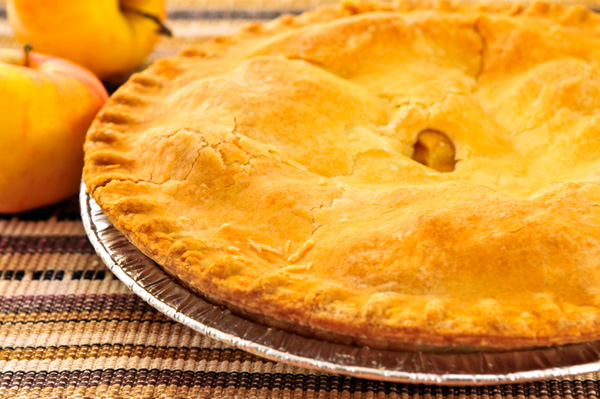 Cheddar-Crust Apple Pie
Ingredients
Crust
1 1/2 cups flour
Dash of salt
1/2 cup shortening
1 1/2 cup (6 oz.) shredded sharp cheddar cheese
4-6 tablespoons water
Filling
1/2 cup sugar
2 tablespoons flour
1/4 teaspoon cinnamon
6 cups sliced peeled apples
2 tablespoons margarine
Directions
Heat oven to 425 F. Combine flour and salt; cut in shortening until mixture resembles coarse crumbs. Stir in cheese. Sprinkle with water while mixing lightly with a fork; form into ball. Divide dough in half. Roll one part to 11" circle on lightly floured surface. Place in 9" pie plate. Combine sugar, flour and cinnamon. Mix with apples. Place mixture in pie shell; dot with margarine. Roll out remainder of dough to 11" circle; place over apples. Seal edges of crust and flute. Cut slits in top of pastry. Bake at 425 F for 35 minutes.
Next: Cookie Sheet Apple Pie