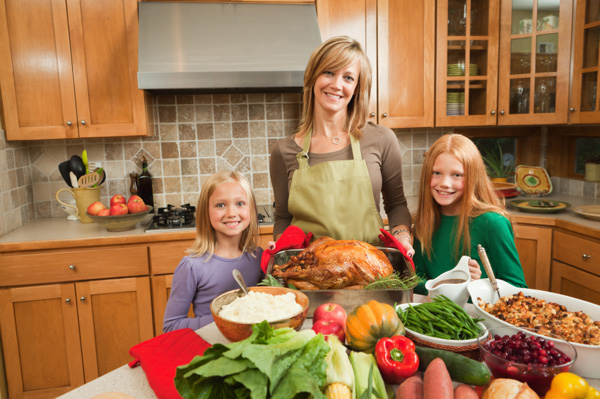 Have a no-sweat holiday
Nerves shot over hosting the Thanksgiving feast this year? Take a step back and a deep breath, because there is nothing you can't handle — especially dinner.
You're not the first, and you're not the last. Generations of cooks have made Thanksgiving dinner for throngs of hungry friends and family and survived. In her early years, your grandmother probably did it without the benefit of nonstick pans, pre-chopped veggies, stuffing mix or *gasp* a microwave! By comparison you have it easy.
You have the internet at your fingertips. Any possible recipe and question you could possibly have about the perfect turkey and delicious side dishes can be answered online in seconds. In fact, if you put in a little research and prep in the weeks before the big day and organize all the recipes you'll be using in a Pinterest board, you'll be that far ahead of the game!
You have a ready-made team waiting to help. No really, you do. People really do want to help slice and dice, especially if there's wine involved, so let them.
Speaking of wine… A little liquid courage never killed anyone. A little!
You can bring home the bacon and fry it up in a pan, and you do, like, every day. This is just another meal. You have a killer career and/or are raising an amazing family. You can handle cooking a turkey.
You can follow a formula as well as the next person. Thanksgiving is a tried-and-true combo: turkey, green veggies, orange veggies, potatoes, stuffing, pie. That's only six things, and you can buy the pie.
You are a budget master. You know how to find the good bargains, and Thanksgiving fare is always on sale this time of year. Don't sweat the guest list — your whole meal might cost less than a typical dinner out!
You don't feel tied to tradition — or you do. Your basic turkey, green bean casserole, mashed potatoes, candied yams and pumpkin pie are a no-brainer and everyone loves them. But a surprise is nice, too, so if you're really itching to grill that turkey, you have options! And options make everything easier.
You have killer organizational skills. You can plan a four-day, out-of-state conference with five departments from three divisions in your sleep. Figuring out when to put a turkey in the oven so dinner won't interrupt the football game is a cake walk.
You're surrounded by the people you love. Whether your table is full of friends, family or the perfect mix of both, you are spending the day with the people for whom you are most grateful, and there's nothing tough about that.
Quick tip:
Don't let them see you sweat this Thanksgiving — use Degree Clinical Protection! Its prescription-strength wetness protection and body-responsive odor protection will help you keep your cool.