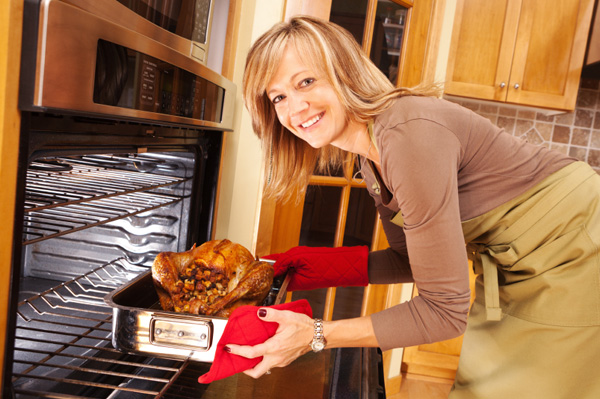 Feelin' fine
at turkey time
Do you pig out or freak out on Thanksgiving? Holidays can be so stressful, especially when you throw in families that might not get along and the pressure of cooking the perfect meal — but we have some tips to make this year the most Zen-ful holiday yet.
Go to bed early the night before and wake up before everyone else for some "me" time. Take a walk around the neighborhood, savor a fresh cup of coffee and a scone, then take a nice, long hot shower with your favorite bath products to set the tone for the day. It will probably be the last time you're alone for a while, so enjoy it!
Hosting? No one really expects you to pull this entire meal together all by your lonesome. Enlist guests to bring a special dish or put them to work and have them slicing and dicing upon their arrival. You'll love having company in the kitchen and they'll love the camaraderie!
3
Don't wait until the last minute
Prep and cook as much as possible before Thanksgiving Day. Veggies can be peeled and chopped, pies can be baked, cranberry sauce can be jellied and the table can be set days in advance. The more you do ahead of time, the less rushing around you'll have to do on that day.
If you dress for the occasion and you're cooking, invest in a pretty apron so you don't accidentally coat your favorite silk blouse in giblets. Fixing a wardrobe emergency in the middle of such a busy day is the last thing you need to worry about.
The internet is your friend. Use it to your advantage to organize recipes, answer temperature and timing questions, and order any special ingredients ahead of time to avoid last-minute freak-outs.
If you and the in-laws don't see eye to eye on, well, anything, have a chat with your spouse ahead of time about how to head off tension and unwanted topics of conversation. It's a holiday, not a grudge match, so try to put differences aside whenever possible.
7
Remember what it's all about
Focus on what the day is about: Gratitude. Not football. Not carbo-loading. It is about being grateful for all that we have, every day. It will lead perspective when you catch your nephew sticking his grubby fingers into the mashed potatoes.