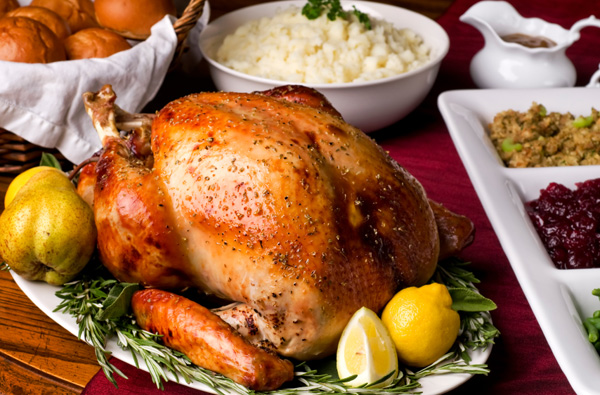 After all, that's
1 special bird
The mashed potatoes, sweet potatoes and pumpkin pie are amazing. But everyone knows the real reason you have 12 people gathered around your table is for the turkey.
Ever notice how the turkey doesn't get much love? It's the entree of honor and yet we often don't give our turkeys the presentation they deserve. These tips will help put the precious poultry front and center during your Thanksgiving dinner.
1
Give it a grand entrance
Turkeys are never lightweight. Avoid mishaps and roll it out in style by using your bar cart to present the main course. Bonus: Keep the alcohol stored underneath.
2
Give guests the full view with a new or repurposed mirror
Set your turkey on a serving platter that's not much larger than the bird itself, and place that on top of a mirror to let your guests see its beauty from all sides!
Switch out your old gravy boat for one that sits on a tealight or plugs in. When the family goes for second helpings, the still-hot gravy will save the turkey.
Call a little attention to yourself by changing your stained apron for a fun, flirty one.
5
Set up a carving station
Leave room on the table for all the fixings and for a pretty centerpiece. Opt to set the bird on your buffet instead. Then designate an official carver for the job.
Let whoever is carving the bird do so with a seriously fancy carving knife. Just don't make him mad!
7
Give it stage presentation
How about a custom cutting board? Honor your last name or your home state with these.
8
Get a rise out of your turkey
Take your bird to the next level by giving it a lift. Flip over two fancy, same-size bowls and rest your platter atop them. Or cover a sturdy box with fabric or wrapping paper that matches your table decor and use it as a riser.
9
Opt for a new, fancy platter
10
Surround it with bold place mats
Help your turkey seem special by dressing up its surroundings. You could even give your platter a different but coordinating place mat of its own.
11
Stack a charger on that place mat
From rustic to oh-so-sparkly, chargers under plates can create a vibe all their own. Stores like Garden Ridge and Old Time Pottery always offer the classic metallic plastic ones for cheap.
Whether you pick up a new baster with a turkey top or use the same one you've had for years, basting at the table is another great way to wow your guests. Suck up some of those yummy drippings to drizzle them over the bird once you've presented it to guests. It's sure to make their mouths water.
13
Use a treasured trivet
The last thing you want is to damage your table with heat from your turkey seeping through the platter. Mark its place and save your table with a cute trivet.
14
Surround the turkey with napkin art
Don't just slap those pretty napkins down on the table. Get fancy by turning them into tiny works of art!
15
Give your bird entrance music
Waive the "no cell phones at the table" policy just long enough to have someone special play the Star Wars theme or "Free Bird" as you walk your turkey to the table. It'll bring the laughs and give your dinner the attention it deserves.
More Thanksgiving Ideas
Thanksgiving turkey recipes for 2
Update your Thanksgiving tablescape on a budget
Turkey-decorated cupcakes