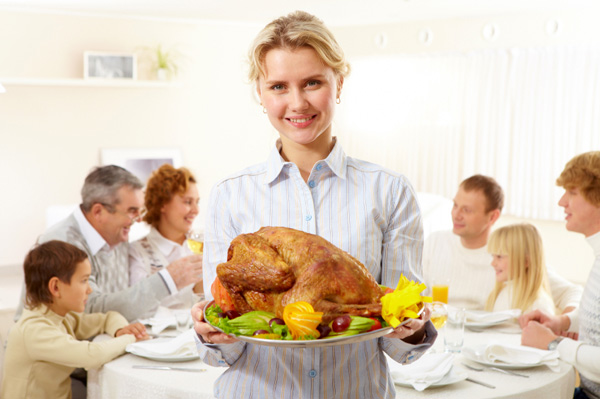 Just breathe
As the air outside lowers and the ovens preheat, tension tightens and emotions begin to boil. We can't fix all your problems, but we can help you get through the day.
Maybe you're dead set on impressing your hateful mother-in-law or perhaps you just want one holiday to be worthy of Martha Stewart. We get it and we're here to help. When your favorite gravy boat crashes to the tile floor, someone adds too much milk to the mashed potatoes or "that woman" just had to find the one knickknack you forgot to dust, close your eyes take a deep breath and keep these three tricks in mind.
1
Have a pre-made backup plan
Sure, you'd love to have fresh mashed potatoes. That's why you sat up until midnight watching Elf for the 10th time while scrubbing and peeling. However, sometimes milk spoils and you don't notice until it's covering your spuds. Instead of trying to rush through another bag and possibly losing your own skin to the peeler, remember that Bob Evans is your friend. His pre-made mashed potatoes taste delish, only take 7 minutes in the microwave and look delightful in your favorite bowl. You can find replacements for all your holiday table staples pre-made and almost as yummy in every grocery store. Keep 'em in the crisper for a Plan B.
2
Delight in imperfections
Perfection is unattainable and, honestly, pretty boring. Think back on some of your biggest life events. Maybe your favorite wedding picture is the one of you and your spouse under an umbrella during a surprise rain shower on the big day. We bet one of your family's favorite memories involves someone's lack of coordination. Imperfection leads to creative improvisation and that usually adds up to fun. When you're running behind, let the kids set the table: They'll take pride in their work even if the forks are all crooked. And that slightly burnt pumpkin pie? It'll taste better heaped with whipped cream anyway. Take a breath and move on.
The best way to avoid the crunch is by not creating one. The average family starts their Thanksgiving "dinner" at 2 p.m. but there's no set time. Set out cold cuts to get the boys through the first round of football games and have dinner at dinnertime. Pushing the big meal back to 5 p.m. or 6 p.m. gives you several more hours of cooking time... and sleep. Plus, it still gives you time to watch your favorite Christmas movie before bed. You can also save time on the big day by doing the pies on Wednesday (they're better cold, anyway). You can even do the veggies that way, too, then give them a quick heat just before everyone sits down to eat.
All three tricks have something in common: Compromise. There will come a time when you have to accept imperfection or let it defeat you. But if you keep calm and go with the punches, you can get through Thanksgiving and come out looking good. No sweat.
More Thanksgiving tips and tricks
Host a Thanksgiving potluck
How to prepare a make-ahead Thanksgiving
The kindness catalog