Turkey dinner
Interior designer and lifestyle expert Courtney Lake helps you plan the perfect Thanksgiving buffet with tips and suggestions on creating a buffet that will wow guests and leave you stress free.

Entertaining for Thanksgiving shouldn't be a daunting task. Even if you are lucky enough to have a dining room in your home, forego the formality and serve dinner buffet style. Whether you are hosting four or 40 for a meal, creating a buffet is a great way to reduce the holiday stress and beautifully present the meal you have worked so tirelessly in preparing.
To create a stellar Thanksgiving buffet, follow these easy pointers:
About one week out, create a schedule of when items need to go into the oven and at what temperature. You can fiddle with cooking temperatures by about 25 degrees F, so if your casserole needs to cook at 350 and your rolls at 325, put them in at the same time! Additionally, be sure to know how many platters and serving utensils you will need. Use sticky notes to tag platters and bowls regarding what exactly they will be used for. You don't want to be holding a 15-pound turkey while looking for a platter.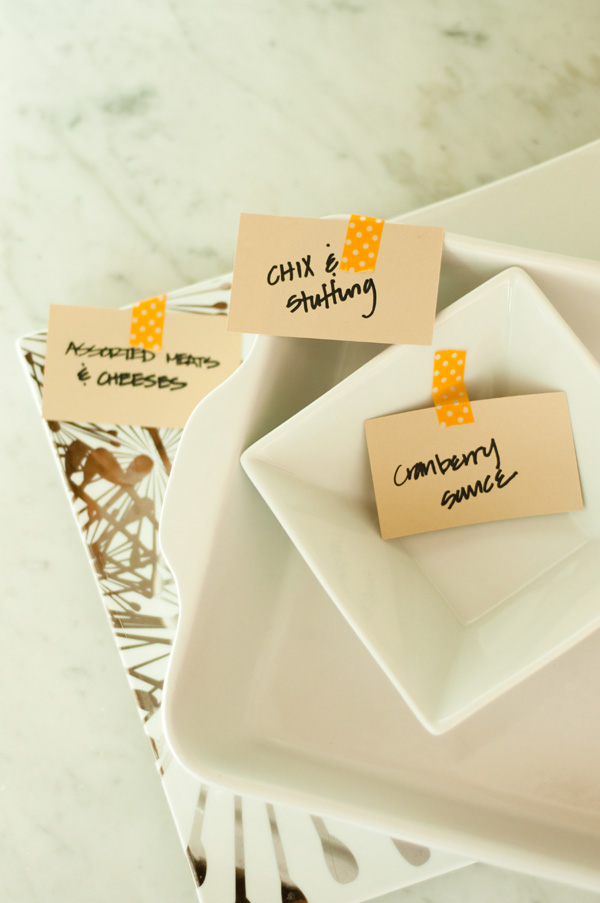 2
Create levels on the buffet
Creating height on your buffet not only makes it more visually appealing, but it makes it easier for guests to serve themselves. You can create the varying heights using anything such as cake stands, cookbooks or even shoe boxes (just be sure to take out the shoes!).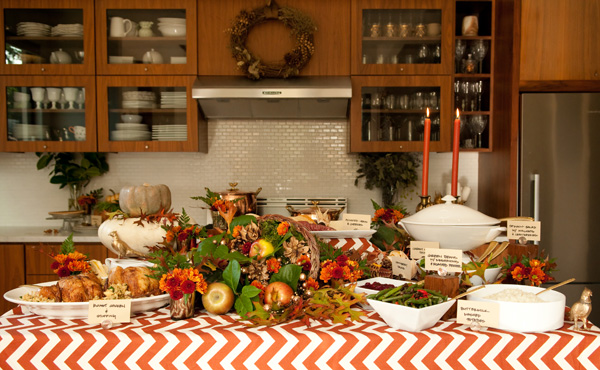 Make sure to label food so everyone knows what is what. Friends with food sensitivities and allergies will thank you, plus you won't have to repeatedly explain what is on the menu throughout the night.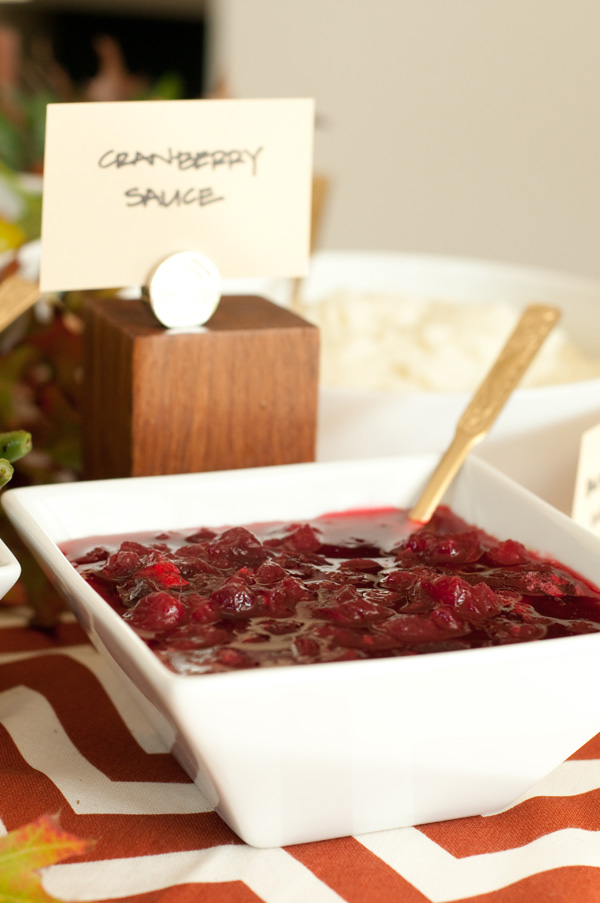 It's your holiday, so make food that you will want to after the dinner is over. Hate turkey? Have roast chicken instead! In addition, choose sides that can be served at room temperature when possible. Also, it is OK to buy prepared food. Don't stress out over cooking the perfect stuffing if you know a local gourmet shop does an excellent version. Your sanity is worth the extra money!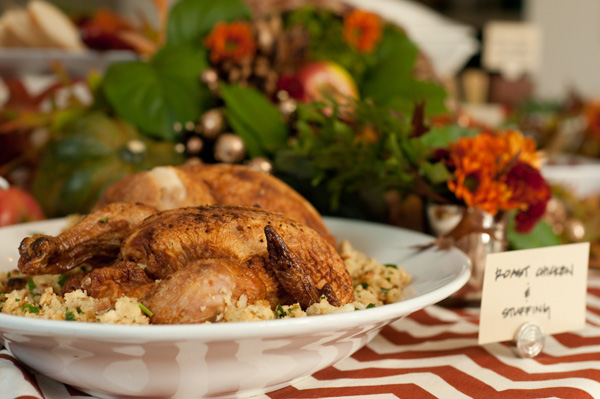 Typically, the buffet is packed with food, so to avoid the dreaded log jam, create different stations where guests can pick up their plates, drinks and dessert. For the plate station, have some fun and display flatware and napkins in an interesting ways, like using an urn or a vase to hold them.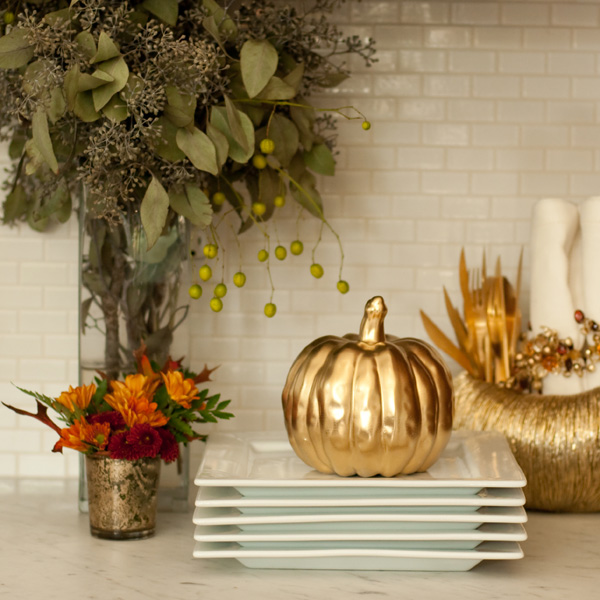 It may seem counterintuitive, but try to place this station away from the food. Actually, if you can, create the drink station in a different room if you have the space. It's a great way to ensure people don't bunch up in the kitchen, and it also forces people to mingle.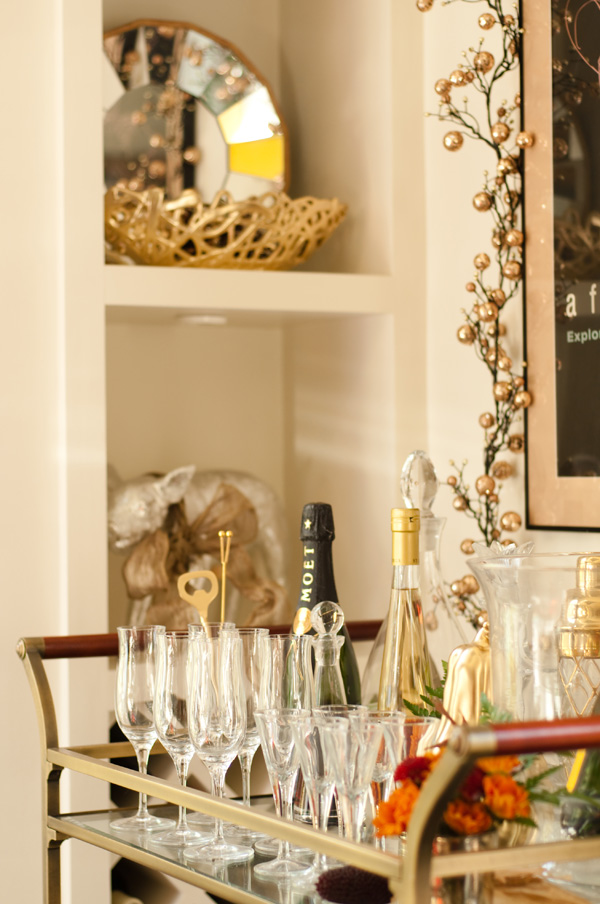 If your kitchen can handle it, place this station in the kitchen. It's a great way to get help cleaning up when people are on a sugar high and before a "food coma" wipes out your army of would-be dishwashers.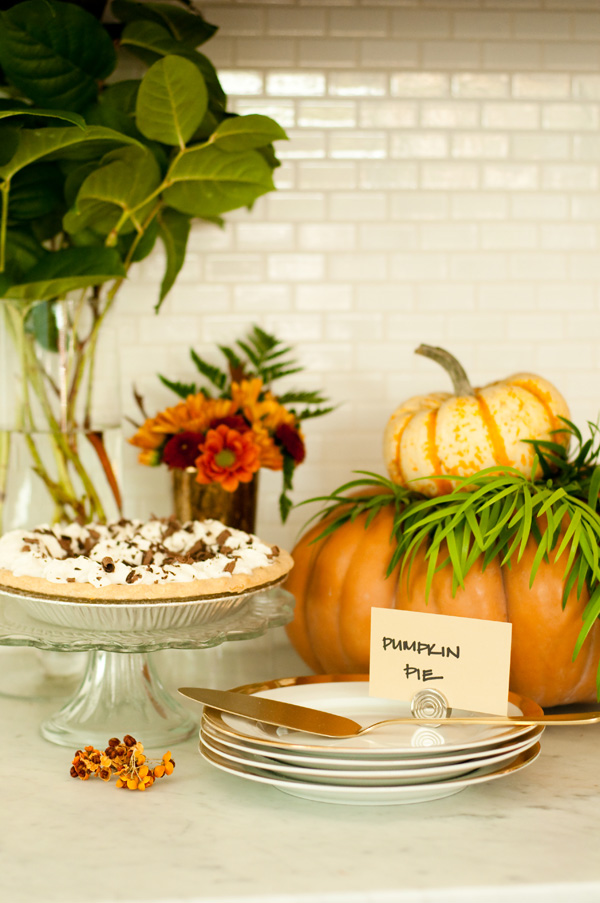 One large centerpiece is a great way to anchor the buffet and create a sense of abundance. But you don't have to be elaborate — stacks of gourds, leaves, figurines or even a sweet little bouquet of flowers are great ways to decorate the buffet and the dinner table. To make this quick mini arrangement, pick up a mixed bouquet at your local market, add greenery like ferns, and place it in a small votive holder. To take the arrangement to the next level, add something unexpected like oak leaves.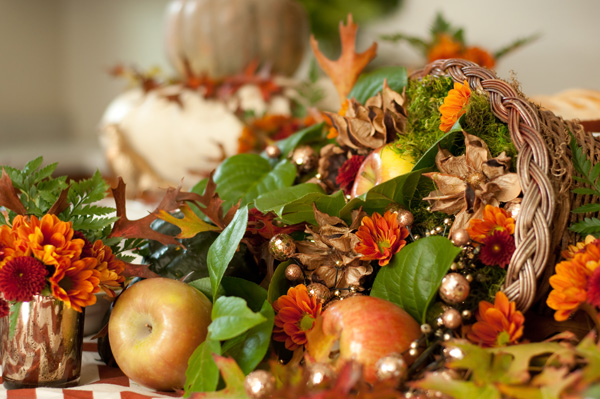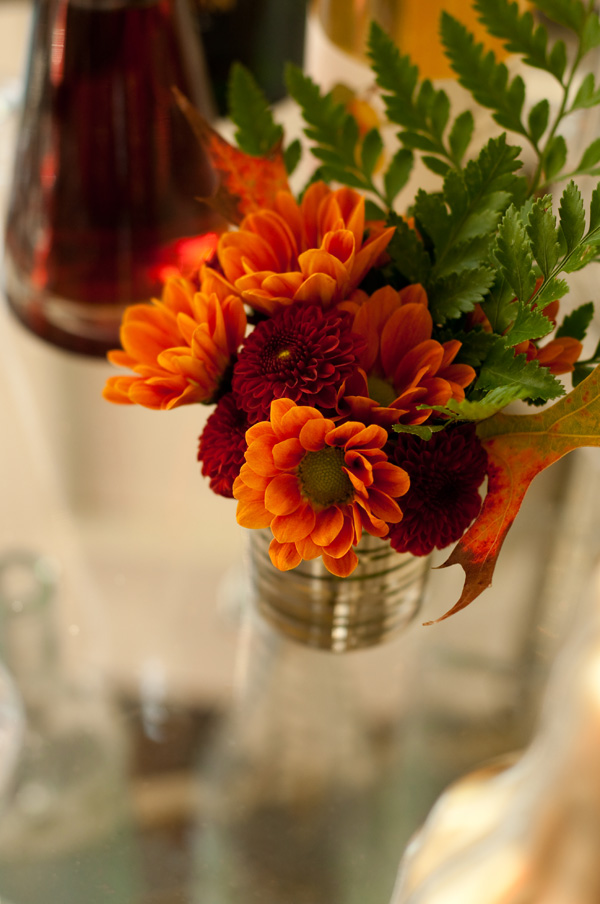 Your friends and family are coming to your home to help you celebrate, not to be served. Hopefully these tips will give you the freedom to relax and truly enjoy the memories made at your Thanksgiving dinner.
More on Thanksgiving
Update your Thanksgiving tablescape on a budget
The kindness catalog
How to decorate your house for Thanksgiving