Have A White Christmas
Give your Christmas tree an ethereal look this holiday season. Decorate with pearly, shimmery white. Whether you're decorating a live tree or a faux tree, these ornaments will make the season sparkle.
All-white Christmas trees can be glamorous and glitzy or quirky and vintage. The key is finding a theme and sticking to white, silver and gold tones. Put your own creative stamp on it. To help you with your white Christmas tree creation, we've rounded up 25 beautiful ornaments.
1
Quirky gardening tools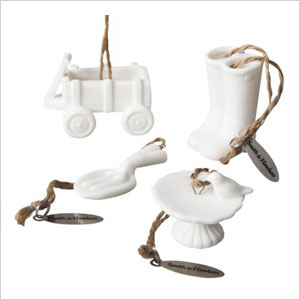 Unfinished ceramic gives these white gardening ornaments a cute, vintage look. (Target, $13)
2
Ceramic snowflake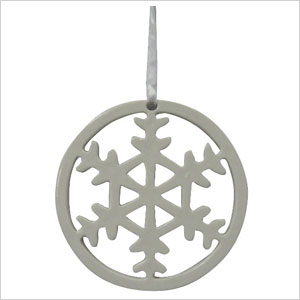 You can't go wrong with a simple ceramic snowflake. Create a flurry with several of them. (Target, $3)
3
Cute white deer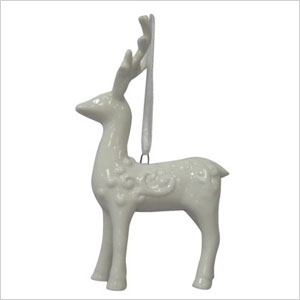 This adorable ceramic deer lends childlike wonder to your all-white Christmas tree. (Target, $3)
4
Ceramic Santa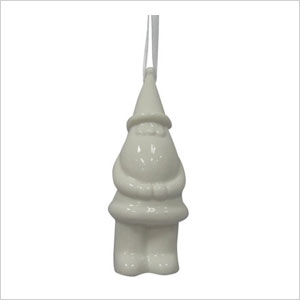 Looking decidedly gnome-like, this ceramic Santa is the perfect classic addition to your tree. (Target, $3)
5
Polar bear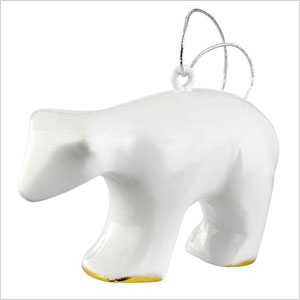 With its tiny gilded feet, this polar bear ornament will give your tree just enough glitz. (Land of Nod, $9)
6
Plush unicorn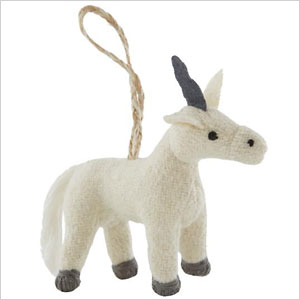 Lend some magic to your tree with a plush unicorn your little ones will love. (Land of Nod, $9)
7
Yarn safari animals
An adorable giraffe and hippo bring safari fun to your all-white Christmas tree. (Crate and Barrel, $10)
8
Glittery greetings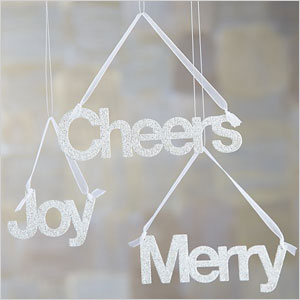 Send a message to your family with friendly glittery greetings on your tree. (Crate and Barrel, $4)
9
Antique glass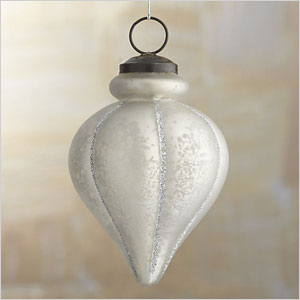 Go with antique charm and style with a white glass ornament with just enough sparkle. (Crate and Barrel, $5)
10
Ceramic bell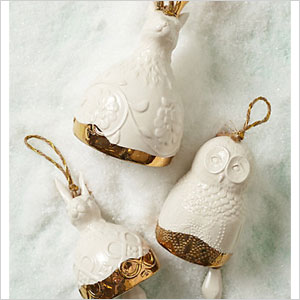 With just a little pop of gold, these ceramic bells gleam and shine on your tree. (Anthropologie, $18)
11
Eiffel Tower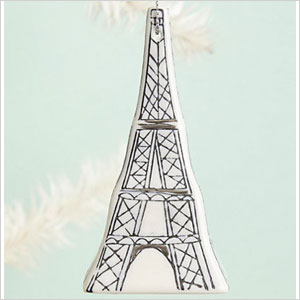 A hand drawn Eiffel Tower ornament cheats with a bit of graphite, but we love it for an all-white tree anyway. (Anthropologie, $10)
12
White ball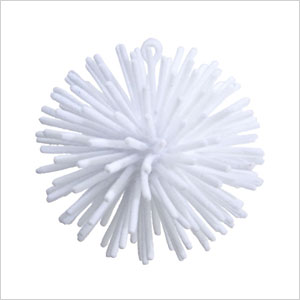 Add a soft starburst of color with a fuzzy white ball ornament. (CB2, $2)
13
Acrylic snowflake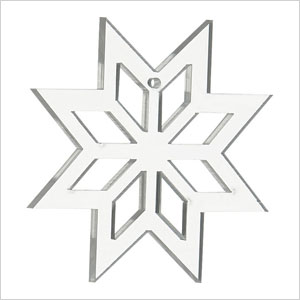 This clear snowflake ornament gives your all-white tree some shine and modern sophistication. (CB2, $3)
14
Intricate snowflakes
Gilded, intricate snowflakes are an upscale addition to your fancy all-white tree. (Sears, $60)
15
White dress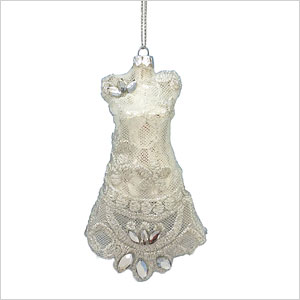 For a bride-to-be or fashionista, add this white dress ornament to your Christmas tree. (Sears, $3)
16
Shatterproof icicles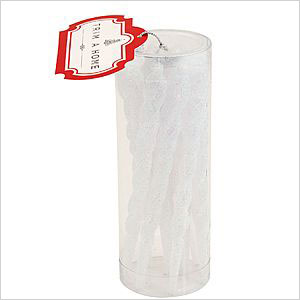 Your all-white tree isn't complete without white icicles frosting the branches. (Sears, $3)
17
Crochet flower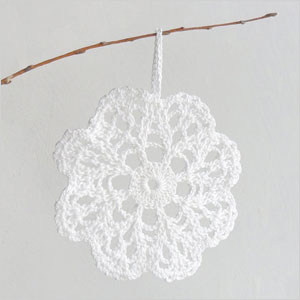 Add homey, vintage charm to your tree with a handmade crochet flower. (Etsy, $5)
18
White feathers
Delicate, real white feathers in glass make your tree look angelic. (Z Gallerie, $28)
19
Flying pigs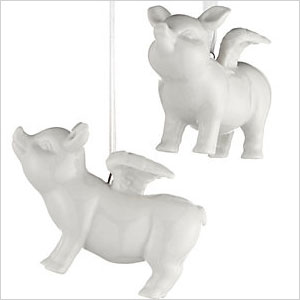 An all-white tree doesn't have to be serious. These white flying pigs inspire big smiles. (Z Gallerie, $8)
20
Fuzzy squirrel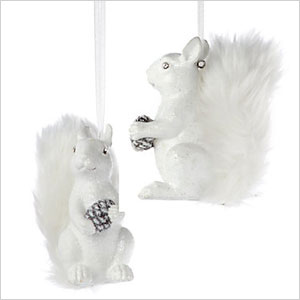 Squirrels are almost as big as foxes this season. Add a fuzzy-tailed white squirrel to your tree. (Z Gallerie, $8)
21
Felted bells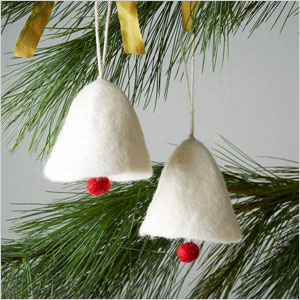 These white felted bell ornaments contain only a tiny pop of red. (West Elm, $5)
22
Feather ball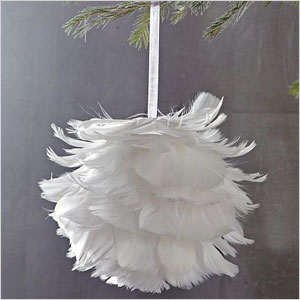 A fluffy white ball of feathers gives your tree a wintry, natural look. (West Elm, $9)
23
Knitted llama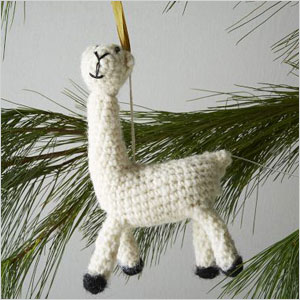 Who doesn't love a llama? Add a knitted llama ornament to your white tree. (West Elm, $6)
24
Frosted acorn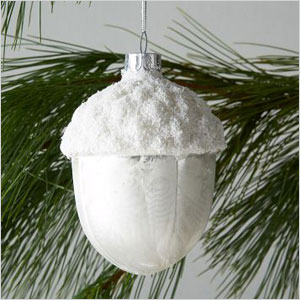 A simple white acorn is a sign of spring to come. (West Elm, $6)
25
White bulb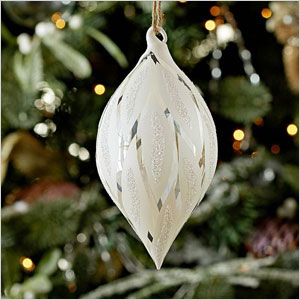 Decorate your tree with a classic Christmas ornament shape. Add a few white bulbs. (Pottery Barn, $13)
More holiday decorating
10 Etsy stores for Christmas decor
10 Unique tree toppers
Homemade Christmas ornaments