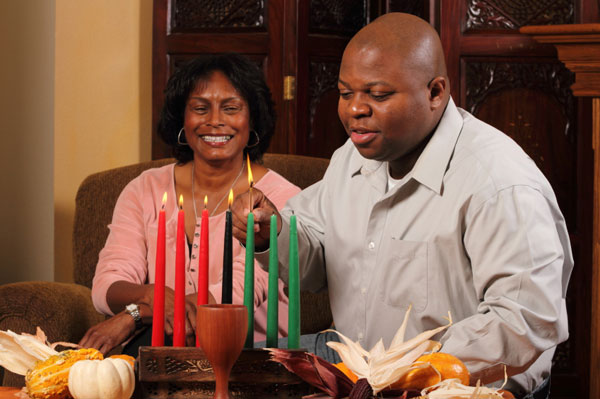 Celebrating Kwanzaa
It's easy during the holiday season to get wrapped up in thoughts of Santa Claus and red and green decorations. However, it is important to know about the other holidays that are celebrated during this time. Kwanzaa is celebrated in the U.S. every year from Dec. 26 to Jan. 1.
What is Kwanzaa?
Kwanzaa was established in 1966 by Maulana Karenga as the first holiday specifically for African-Americans. The name is derived from the Swahili phrase "matunda ya kwanza," which means "the first fruits of the harvest." It was established to help African-Americans connect with their culture and heritage, and it celebrates seven core principles. Originally, the holiday was created to replace Christmas in the U.S., but it has since been adapted so that Christian African-Americans do not feel left out. Today, many families celebrate both Kwanzaa and Christmas in their homes.
The 7 principles of Kwanzaa
Kwanzaa celebrates seven core principles, and each day of Kwanzaa is dedicated to one of the principles. The principles are Umoja (unity), Kujichagulia (self-determination), Ujima (collective work and responsibility), Ujamaa (cooperative economics), Nia (purpose), Kuumba (creativity) and Imani (faith).
Symbols of Kwanzaa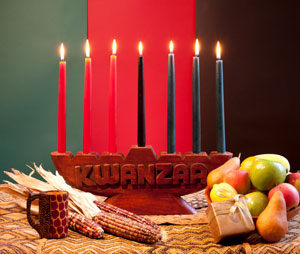 There are several different symbols that are associated with Kwanzaa. First there is the mkeka, or the decorative mat on which the other symbols are placed. It symbolizes the tradition and the foundation on which everything is built. On the mat goes the kinara, which is a candle holder. The kinara represents the common roots African-Americans share with the people of Africa. In the candle holder are seven candles that represent the seven principles of Kwanzaa. Additionally, an ear of corn called the muhindi is placed on the mat and represents children and the future. Finally, there is the bendera, or the flag of Kwanzaa. The flag is composed of the colors black, red and green. Black is for the people, red represents their struggle and green is for the future.
The celebration
African-American people take celebrating Kwanzaa very seriously and put a lot of time and effort into preparing for the celebration. Gifts are traditionally given to the children but must include both a book and a heritage symbol. Decorations include traditional African items like African baskets, cloth patterns, art and symbols of the harvest. All greetings during the celebration are in Swahili and are used to draw awareness to the seven principles of Kwanzaa.
You might also like
Family-friendly activities for Kwanzaa celebrations
Celebrating family, culture and community with Kwanzaa
Best children's books about Kwanzaa