Take the tricks out
of costume shopping
Choosing a Halloween costume can be a serious source of stress for many of us. Whether you want to be sexy, hilarious, themey or any combination of those things, with limited options this decision can be haunting. I'm here to help take any tricks out of buying a costume and give you my tips for making it a treat.
I've taken the liberty to peruse what's on the market and have created a guide to getting it right this Halloween. I've also added a note at the end of each image with what size I wore. I'm traditionally an 18, so consult size charts and also use my notes as a loose guide. I'd also recommend you act fast! Us curvy girls need time to plan ahead if something doesn't fit right and supplies are limited, so shake a tail feather.
1
To channel your inner vamp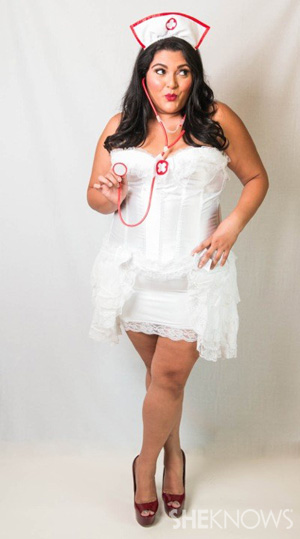 HipsandCurves.com has amazing options for those of you wanting to go the mouse, kitten, angel or nurse route a la Mean Girls. Who says big girls can't be sexy? Hips and Curves offers an array of pieces to mix and match that help you get your vixen look just right. From corsets to thigh highs to the perfect pair of wings, they've got ladies' sizes 1X-6X covered (or rather uncovered). (I'm wearing a size 2X in the skirts, but a 3X might have been a better choice. For corsets, use their size chart.)
2
For the adorable damsel in distress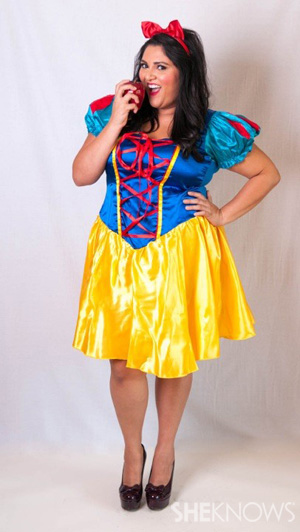 Disney Classic Snow White Costume (Torrid, $45)
Mirror, mirror on the wall. I love this costume from Torrid. They have a wide variety of choices on their site and this one was a no brainer for me. Who doesn't want to be a princess? This frock is just playful enough to be childish and cute, but still sexy and fairly modest. You can pair this with tights and heels, or flats for a more comfortable look! (This look has just a tiny bit of stretch therefore I found that the 3/4 worked better for me… it runs a bit small. Hurry this is almost sold out.)
3
Ghouls, goblins & witches, oh my! This one's for you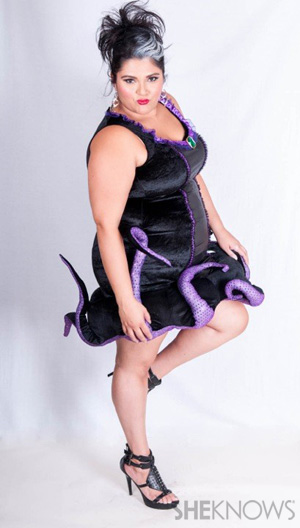 Disney Ursula Costume (Torrid, $72)
I always love being creative on Halloween. I love having memorable outfits that make people laugh and generally put a lot of thought into them. This costume holds special significance for me because growing up, The Little Mermaid was incredibly popular. Almost every day on the playground, parts would be divvied up for our daily reenactment of the film, and every day, being assigned Ursula on account of my size and black hair was devastating. Well, I'm no longer devastated by not being cast as Ariel and choose to embrace my inner diva. After all Ursula is a queen and has lots of minions to order around, not too shabby. (I'm wearing a 1/2 in this look. It's very fitted so shapewear is a must too!)
4
For the practical pirate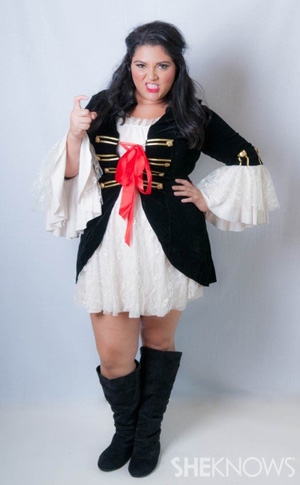 Captain Swashbuckler Costume (Torrid, $70)
What I love about this costume is that it is incredibly well made, comfortable and stylish. When traveling about looking for booty on Halloween, it can get chilly. The sleeves on this costume are fabulous for warmth and for those that want to keep their arms concealed. You can also pair with fishnets and high-heel boots for an edgier and even sexier look. A sword and eye patch will complete this look and have every prisoner at your mercy. (I'm wearing a 1/2 but it is a bit short in back!)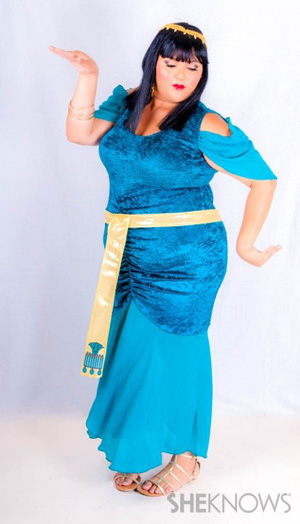 Egyptian Jewel Costume (Sonsi.com, $85)
This classic costume is a great choice for those that want to show off their curves in all the right places. The cold shoulder sleeve is perfect for those who want more coverage in this area and the ruffle at the bottom adds a sophisticated and glamorous touch. If you're anything like me, comfort plays a big part in choosing what to wear, so gladiator sandals make this a great option for those who want to hit the dance floor or neighborhood and not look back! This is also a great choice for the workplace as it's not so naughty and quite nice. (I'm in a 2X and it fits perfectly.)
Have fun
Overall, my biggest tip is to wear your costume with confidence. Halloween is the one day a year that you can be anyone or anything that you want to be. Wear your choice unabashedly and have fun with it! This is a wonderful opportunity to let loose, be free and get your sexy back. I'd love to see what costume you chose, so tweet me @themarcyminute!
More Halloween costumes
How to choose an adult Halloween costume for your body type
8 Classic Halloween couple costume ideas
Halloween costumes and makeup ideas