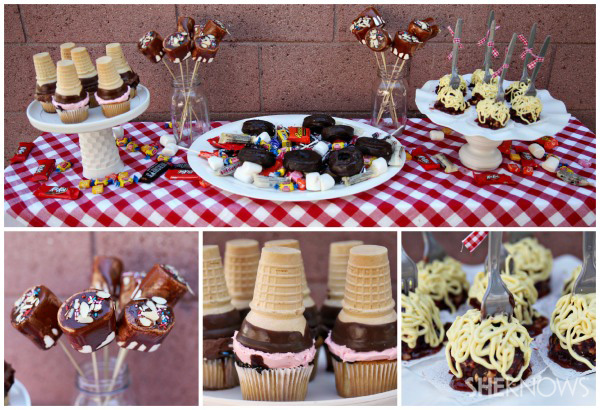 On September 27, Cloudy With a Chance of Meatballs 2 hits theaters. Though we're excited to see the imaginative food creatures Flint discovers on a mysterious island, we still can't forget Mother Nature's massive food fight in the first film. We love soaring meatballs, but don't worry — you won't need an umbrella to enjoy this party. With just a few simple touches, your tasty rainstorm will be ready to go!
This party theme wouldn't be complete without meatballs, now would it? Well, believe it or not, these meatballs are actually cake pops! This sweet spin on a classic appetizer is fun, tasty and easier to create than you might think. Simply roll cake pops in nuts, drizzle with jam and frosting, and top each one off with a fork.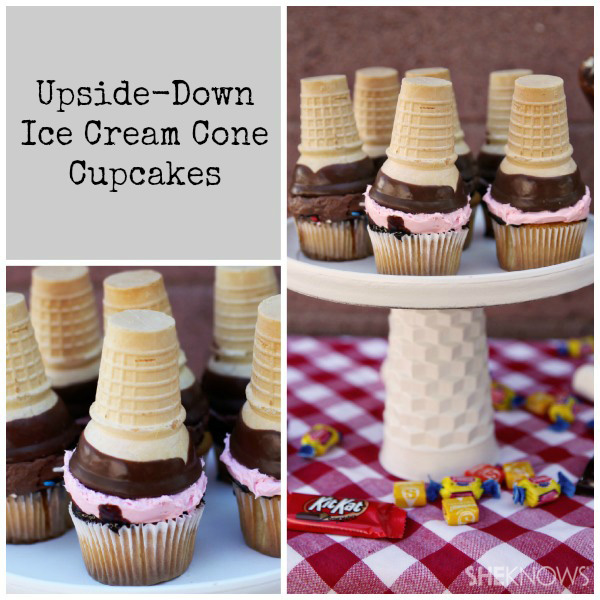 In the first film, it doesn't rain cats and dogs; instead, it rains hamburgers and ice cream. Keeping this "falling from the sky" theme in mind, these upside-down ice cream cone cupcakes are a perfect fit. Even better, they're simple to make.
Ingredients:
1 dozen cupcakes
1 tub frosting
12 ice cream cones
Ice cream toppings, such as syrup and sprinkles
Ice cream scoop
Directions:
First, bake your cupcakes according to the instructions on the box.
Allow cupcakes to cool until they're only slightly warm. Scoop a large dollop of frosting onto the ice cream cones, and decorate them with your favorite toppings — exactly as if you were making a real ice cream cone.
Once your "frosting cone" is ready, press it onto the top of a cupcake, upside down. If your cupcakes are still slightly warm, the frosting will melt a bit, which will make your cones look as though they fell from the sky and landed right on your cupcake. Splat!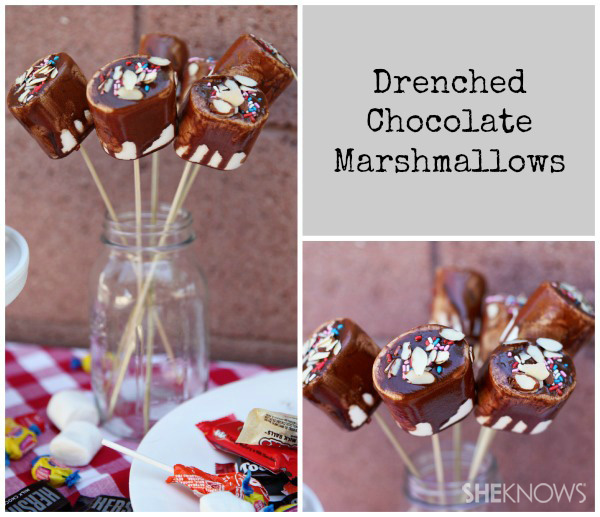 Marshmallows just keep getting bigger, don't they? But we're not complaining. We think jumbo-size marshmallows are the best things since sliced bread. To make these drizzly sweets, simply dip each marshmallow in Smucker's Magic Shell toppings, add sprinkles and almond slices, and then allow them to chill in the refrigerator before serving.
The finishing touches
Have some fun with your food shower by covering your serving table with piles of candy. Tuck treats like donuts, cookies and brownie bites throughout the candy stacks, to make the food display appear as a heaping mess. Then, as an extra detail, string small bundles of gray helium balloons over your table setting to achieve the look of clouds.
Cloudy 2
Click here to learn
how to make a watermelon elephant
serving bowl inspired by the new film!
More entertaining ideas
Chalkboard party props and backdrops
Host an end-of-the-summer bash
How to throw a Superman-themed party
Get Cloudy with a Chance of Meatballs 2 early on digital today. Get it on Blu-ray combo pack Jan. 28.
Photo credit: Sony Pictures