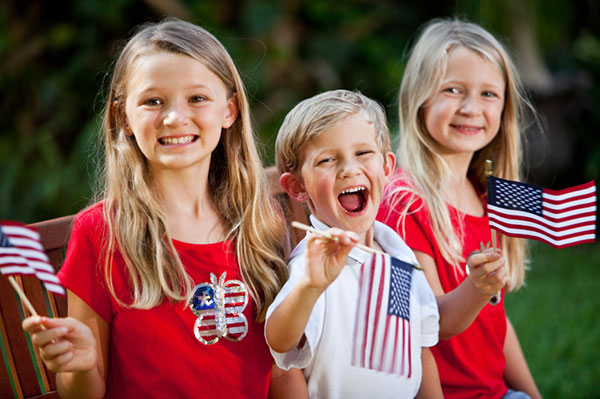 Little American
Turn Fourth of July into family fun with these seven fun activities for the kids of the house. Guaranteed fun, your kids will be little patriots by the end of your holiday.
Nothing is as American as a round of baseball. Set up a game with the family or invite neighbors for a fun-filled run around the bases. Have players wear red and blue to differentiate between the teams.
Make DIY Baseball T-shirts for the family with this awesome and easy tutorial.
Keep kids busy this Fourth by having them play the American classic game of bobbing for apples. Set up barrels of water or plastic pools, and have your children bob for apples. If children are younger, have them reach for the apples instead of bob.
Keep kiddos busy while you prepare for the barbecue with fun, patriotic Fourth of July crafts. Do a few with them or let them craft on their own while you supervise. Give the crafts away as gifts or use for your picnic decor.
Head over to 4th of July crafts for kids to get some patriotic ideas.
Encourage your children to become the Fourth of July entertainment while they put on a Patriotic play. Have them write their own American story or re-create one of your favorite American tales. Use your Fourth of July crafts for play props. And don't forget to record the play for future family fun.
Looking for the perfect costume? Grab this Lady Liberty costume idea for your little lady.
5
Red, white and blue lemonade stand
What better day to sell lemonade than on the Fourth of July? Help kids create a patriotic lemonade stand and serve (or sell) lemonade to neighbors. We like this berry filled lemonade for a super spin on July Fourth.
Let kids fall asleep under the fireworks as they camp out in the backyard. Set up the tent as they create their own "campground" filled with a makeshift fire. Make s'mores and tell patriotic campfire stories as they snooze under the stars.
Encourage your children to create their own all-American story. Let them re-create their own discovery of America or an Americanized story of their own perfect Fourth of July. Inspire them with books on Christopher Columbus, the founding fathers or the Declaration of Independence.
Need some inspiration for the play? Amazon gives us their favorite Fourth of July books.
More Fourth of July event ideas
Keep your kids safe around fireworks, sparklers and fire
Throw a kid-friendly 4th of July party
Firework and outdoor safety for kids