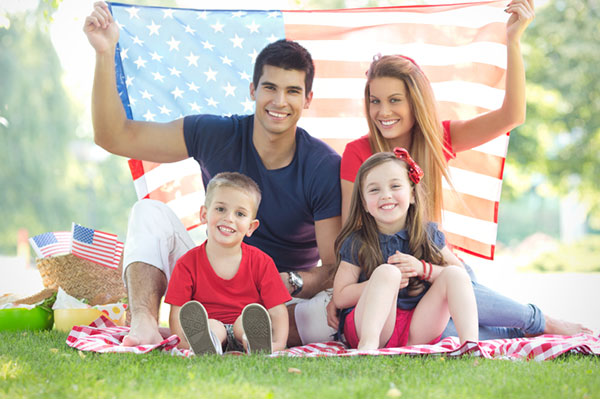 Red, white and
blue recreation
The parade isn't the only thing to do this Fourth of July. Here are five other ideas to celebrate America the brave's birthday.
Nothing says America like a good ol' game of baseball. Head to the ballpark to catch nine innings while you eat an All-American hot dog and drink an ice-cold beer. If beer's not for you, grab some lemonade and the kids to root for the home team for the great U.S. of A's birthday celebration. If you're lucky, you might even be able to see some awesome fireworks after the show.
Check MLB.com to see if your home team is playing a home game this Fourth of July.
Don't feel like dealing with crowded streets, lack of parking, candy thrown at your noggin, and the stinky sidelines of a parade? Bring the party to your block! Invite your neighbors to have a party in the cul-de-sac or someone's big backyard (preferably with a pool) for an Independence Day bash. Create a potluck list of what to bring in an Evite, play some patriotic tunes, and party in the USA with the neighbors.
Cook better than The Jones' with this real watermelon grill tutorial.
Celebrate Independence Day by having a movie fest on your couch while the cool A/C blows on your face. Watch alone or invite the whole fam while you make red, white and blue popcorn, sip on some Coca-Cola, and watch these all-American movies. Here is a list of our favorites:
Independence Day (duh!)
The Patriot
Top Gun
Miracle
Forrest Gump
The Sandlot
Superman
Everybody's All-American
American Graffiti
Field of Dreams
Skip the sounds of trucks, children crying and honking horns and attend an all-American concert. Sit on the lawn while you catch some rays (don't forget the sunscreen!) and jam out to your favorite tunes. Bring a friend, a blanket, and enjoy your summer days doing something you can remember for a lifetime. Many cities have free concerts for their Fourth of July celebrations! Check your city's website to see if you are one of the lucky bunch.
Cool off and cool down while you and the family enjoy the local water park or pool. Filled with activities coordinated specifically to the all-American holiday, the chlorinated beach or sand-filled kind is sure to be a hit for anyone looking to beat the heat this Fourth of July. Just make sure you all wear sunscreen and drink plenty of fluids so you have enough energy to enjoy the once-a-year firework display.
More 4th of July activities:
8 Cheap July 4 destinations
20 Fun DIY decorations for the Fourth of July
4th of July activities for families