Tips On Food, Drinks, Decor And More For Your Memorial Day Soiree
Memorial Day is quickly approaching. If you're planning to host a party during the holiday weekend, now's the time to plan for it. Here are some helpful ideas for commemorating military service members during your party as well as tips on which types of food, drinks and decor will be ideal for your holiday bash.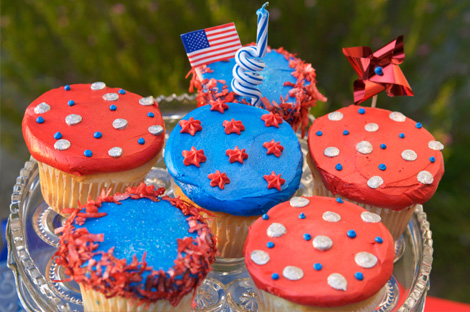 Honoring military service members
A Memorial Day party is about more than fantastic food, delicious drinks and a long weekend. The reason our nation observes Memorial Day is to commemorate the men and women who have died in military service. As hostess, one of your duties is to acknowledge this fact.
Relationship expert April Masini, of AskApril.com, suggests taking a moment to remember loved ones lost among your guests as well as those your guests don't know who have lost their lives while in service. "A moment of silence will bring meaning and depth to the celebration," she explains.
Another idea Masini offers is to single out your guests who have served in the military and offer them a heartfelt toast. "Invite them to make a speech about what's important to them about the day," she adds.
Larry Green, of Rentals Unlimited, suggests having guests bring photos of their friends and family members who served in the Armed Forces to incorporate into a collage. "It's a great way to remember what the holiday is all about," he says.
Decorating
Karla Amador, of EventFinds.com, suggests adorning your event space with red, white and blue decor. She recommends hanging banners in those colors, using red-and-white checkered table linens and decorating with small American flags. For centerpieces, she suggests spray painting food cans red, white and blue and filling those cans with garden flowers.
Selecting food and drinks
If you're hosting your event outdoors, consider the advice of Julie Busha, who has spent a decade planning events. She says, "Selecting menu items that will hold up in hours of heat is key. Stay away from mayonnaise-based potato salads or cakes that will melt in the sun, unless you have the proper cooling equipment, which I have found most people do not."
Busha further explains that the most important thing a hostess can do is to prepare as much food as possible ahead of time. "Likewise, mixing up the menu a bit will definitely be noticed by your guests, especially if you don't want to veer away from the traditional Memorial Day menu," she adds.
For beverages, Busha suggests setting out beverage dispensers and having guests serve themselves during the event. She also has some helpful advice for serving lemonade. "You can turn a standard lemonade made from a mix into something special by not only slicing several lemon sections into the prepared drink, but squeezing them in and allowing the rind to flavor the lemonade a few days in the fridge before the party. The bitterness provides an authentic taste that makes it seem like it is homemade," she explains.
More tips for hosting parties
Where to find stunning party printables online
Summer cocktail trends
Easy ideas for backyard entertaining