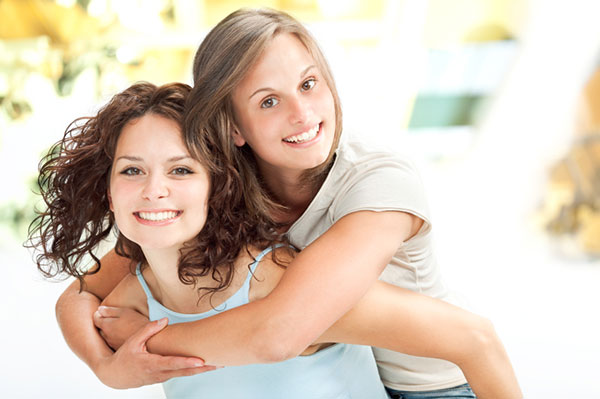 Ways to celebrate these hidden gems
Though it's easy to remember Christmas, Thanksgiving and Labor Day every year, did you know that there is a special day set aside to celebrate grandparents or show appreciation for your boss? Here are eight hidden gems of holidays that you may have forgotten.
Best friends are there for us when we need them most. They give us a shoulder to cry on during a break up, an ear to vent to after a bad date and a pat on the back when we need encouragement, so it's no surprise that there is an entire day designated to celebrate them — June 8. Show your BFF how much you appreciate her by treating her to dinner or giving her a small, yet thoughtful, present (a handwritten note explaining why you appreciate her friendship, a basket filled with her favorite things or a framed photograph of some of your best memories together).
Unlike Valentine's Day, which is geared toward couples — and also known for making single people squirm — Sweetest Day is observed on the third Saturday of October by anyone who wants to recognize someone special and show appreciation for others. The founder of Sweetest Day started this holiday in 1922 in Cleveland by giving candy and treats to orphans and those who were less fortunate. Share your sweetness with family, friends, co-workers or associates with a box of chocolates, baked goods or a card. Visit a hospital or retirement home to brighten up someone's day with a sweet treat. On the romantic side, this holiday is more about women catering to the men.
This is a special day to honor grandparents, who are thoughtful, enjoy spoiling their loved ones, and are full of wisdom and make great storytellers. Grandparents have a special bond with their grandchildren, and they should be cherished while they are still here. National Grandparents Day falls on the first Sunday after Labor Day. Celebrate this day by spending time with your grandparents if you live in the same area. If they live out of state, pick up the phone and call them. Plan a family visit so that your children can spend time with their grandparents, or have them make a gift or card. Create a photo album filled with favorite family memories.
How would you describe your boss: Awesome? Understanding? Open-minded? (Hopefully the word Cruella didn't run across your mind.) Bosses with great leadership qualities deserve to be celebrated on Boss's Day on October 16. Although you may not always agree with your boss's decisions or get along 365 days a year, you can show your appreciation on this day with a thoughtful gesture, such as a card, flowers or taking your boss out for lunch.
Known as the largest national day of community service, as well as the national day of doing good, millions of volunteers devote their time on this day to helping others through community-based projects. Some ways that you can participate in Make a Difference Day include recycling, planting a tree, organizing a food drive, donating clothes to a shelter or cleaning up neighborhoods in your local community. It falls on the fourth Saturday in October.
6
Read Across America Day
This holiday falls on March 2 — the same day as Dr. Seuss's birthday — and promotes reading for all ages. Numerous reading events are organized across the country on this day, and some celebrations incorporate elements from Dr. Seuss books. Dedicate a certain amount of time on this day to read or attend a book fair. Take your child to your local library to participate in reading activities.
Whether it was an older, overbearing sibling, a younger spoiled sibling or a competitive middle sibling who got on your nerves, there are still many benefits of having a sibling. Siblings have a special bond, and National Siblings Day was created as a way for siblings to honor and celebrate each other on April 10. Take your siblings out to a movie, send them a gift or invite them over for dinner.
Honor the joy your dog has brought into your life on August 26. This day is also set aside to recognize the importance of dogs and to rescue dogs from homelessness and abuse. You can celebrate National Dog Day by adopting a dog, buying your dog a new toy or organizing a dog-walk fundraiser with your neighbors and friends and then donating the proceeds to animal welfare organizations.
More about hidden gems of holidays
Celebrating Sweetest Day
Plan a special Grandparents Day
Gifts for National Dog Day