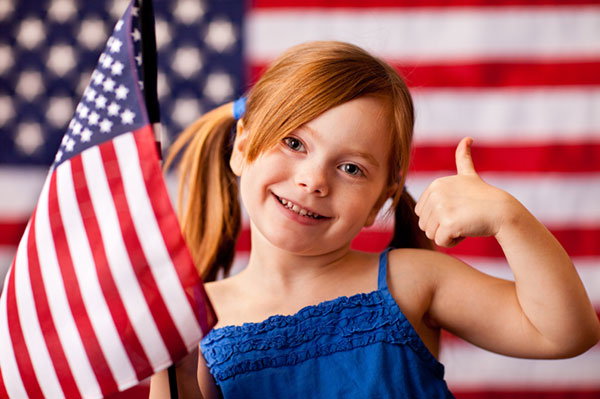 Celebrating the Less Popular Holidays
Enjoying a big Thanksgiving feast, exchanging gifts on Christmas or buying sweets for your sweetie on Valentine's Day have all become popular American holiday traditions, but there are many other American holidays that aren't as popular but still can be celebrated. Here are seven holidays that are less well-known in the U.S.
Flag Day
Display your flags on June 14 to honor the U.S. flag and its legacy. According to The National Flag Day Foundation, Bernard J. Cigrand, "Father of Flag Day," made his first proposal for an annual observance of the flag in 1886. President Woodrow Wilson issued a proclamation that called for a nationwide observance, but Flag Day did not become official until President Harry Truman signed the legislation and designated June 14 as National Flag Day in 1949. Today, people celebrate Flag Day by flying their flags, sharing the flag's history with others and attending flag-raising ceremonies, parades and other festivities.
Fact: The Continental Congress adopted the stars and stripes as the pattern of the U.S. flag in 1777. Residents in Pennsylvania get Flag Day off as a holiday.
Arbor Day
Originated in Nebraska in 1872, Arbor Day falls on the last Friday in April, though some states observe it during different times of the year based on climate conditions. Arbor Day honors the importance of trees and encourages people to care for them. Plant a tree on Arbor Day, visit a garden center or enjoy the beauty of trees during a nature walk.
Fact: On the first Arbor Day in Nebraska on April 10, 1892, approximately 1 million trees were planted.
Earth Day
Earth Day is observed every year on April 22 to create awareness for the Earth's environmental issues, such as soil, air and water pollution. You can contribute on Earth Day by walking or riding your bike instead of driving, shopping with reusable bags, carrying your lunch in recycled containers, planting trees, attending educational conferences, picking up trash in your local area or joining organizations that work toward protecting the environment.
Fact: Senator Gaylord Nelson created the first Earth Day on April 22, 1970, and 20 million people supported the movement nationwide in an effort to protect the environment.
May Day
This ancient Northern Hemisphere spring festival is a two-in-one holiday that celebrates the arrival of spring and is also recognized as International Workers' Day. This holiday is observed in many cultures. Some people celebrate May Day with bonfires, spring fertility festivals and traditional folk dancing around a maypole. In a U.S. tradition, May baskets were filled with flowers and left on someone's doorstep. Create your own May Day celebration by going out for a night of dancing, brightening up your garden for spring or enjoying a May Day brunch with fresh spring fruits, salads and May Day punch or wine, which is flavored with berries, fruits and herbs.
Fact: Wrapping colorful ribbons around a maypole is one of the holiday's popular traditions dating back to the Middle Ages.
National Day of Prayer
This holiday encourages people from all faiths and backgrounds to pray for the nation and its leaders. President Harry Truman signed a bill proclaiming the National Day of Prayer in the U.S. in 1952, and the law was amended and signed by President Reagan in 1988, permanently designating the first Thursday of May as the annual National Day of Prayer. To observe this holiday, people attend prayer services and gatherings.
Fact: The first Continental Congress called for a National Day of Prayer in 1775, and President Abraham Lincoln called for a day of prayer in 1863. Millions of people still come together today to support this holiday.
International Women's Day
This global holiday is observed on March 8 and celebrates the accomplishments of women throughout history, regardless of background or ethnicity. The first International Women's Day occurred in 1911, and the United Nations began celebrating this holiday on March 8, 1975. Celebrate women today by visiting a museum and learning about women you admire, or educate yourself on prominent women's issues and get involved in creating change. Spend time with the special ladies who have made a difference in your life.
Fact: The first National Women's Day was observed in the U.S. on February 28, 1909.
National Senior Citizens Day
This holiday recognizes the achievements of senior citizens and is observed on August 21. To show your appreciation for senior citizens, sign up to volunteer at a local retirement home, spend time with senior citizens in your community or volunteer to help out with household chores, such as washing dishes.
Fact: President Ronald Reagan declared August 21 as National Senior Citizens Day in 1988.
More on holiday traditions
Celebrate global traditions
Creating holiday traditions around food
5 best holiday festivals in the U.S.