Our SheKnows Health Expert, Michelle Dudash, provides simple health and fitness tips to you get back on track with your workout schedule, daily nutrition and more!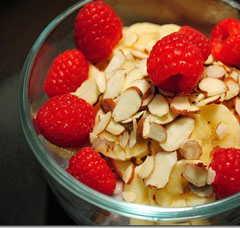 Healthy breakfast sundae
Try this healthy breakfast "sundae" to keep you satisfied until lunch. Top 1/2 cup partially frozen raspberries and blackberries with 1 cup organic vanilla yogurt and 2 tablespoons slivered almonds.
Find something you want to share?
Email this tip to a friend