Smart Summer Bundle
Enter for your chance to win the Smart Summer Bundle Giveaway!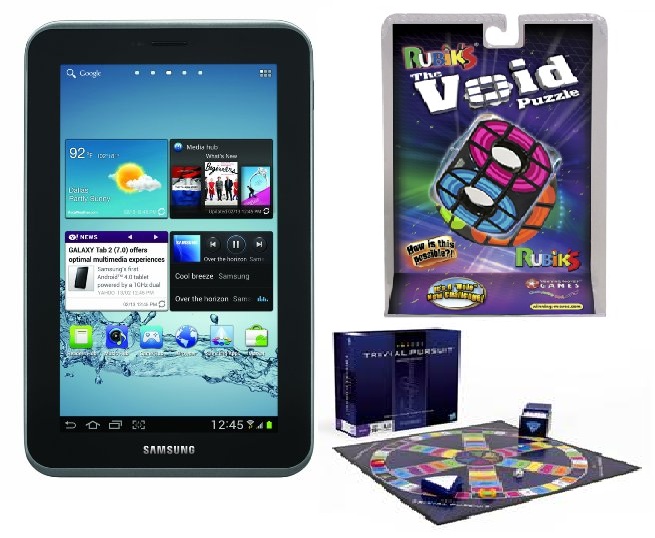 GALAXY Tab 2 (7.0) unites communication, multimedia and web functionality in one easy, endlessly entertaining personal tablet. Powered by latest Android OS, Ice Cream Sandwich. GALAXY Tab 2 introduces new technologies and evolved UI through unique features like Face Unlock and the latest TouchWiz . It maintains light-weight and slimness for high portability. It is connected to various network providers for best performance in application use, wireless web access, faster data transmissions and seamless multimedia consumption.
Winning Moves 3x3x3 Rubik's Void Cube in the original sealed factory packaging. The Void Cube is a  3-D mechanical puzzle similar to a Rubik's Cube, with the notable difference being that the center "cubes" are missing, the Void is amazing to see, to touch and to play!
Trivial Pursuit Master Edition is for the trivia buff that loves to show off how smart they are. This edition includes 3,000 all-new questions that will challenge even the savviest Trivial Pursuit player. With classic Trivial Pursuit game play and a timer to keep up the pace, the race is on to find the Trivial Pursuit Master. For 2 or more players, ages 16 and up.
Enter now for your chance to win!
Entries are unlimited.