Lose weight with music that moves you!
Burn major calories and torch fat! These audio workouts feature coaching from elite fitness instructors and specially designed music for maximum results.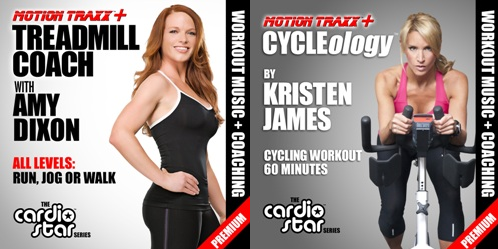 Ten lucky winners of the Cardio Star Series by Motion Traxx giveaway will receive both the Treadmill Coach and CYCLEology CD's!
Treadmill Coach: Whether you like to run, jog or power walk, this is your ideal treadmill soundtrack.  Designed and coached by Equinox Instructor Amy Dixon, this 'all-levels', interval-based workout music mix can help you burn up to 1,000 calories.  And believe it or not, you will actually 'enjoy' using the treadmill!
CYCLEology: Fans of spinning / indoor cycling will absolutely love working out with Master Instructor Kristen James of Equinox.  Cycling can burn more than 600 calories per hour and Kristen makes sure you'll push you best with intervals, climbs, sprints, Tabata, and more.  Great for cross-training and losing weight. 
Enter now for your chance to win the the Cardio Star Series by Motion Traxx giveaway!
Entries are unlimited. 
Check out more SheKnows Giveaways!