Sculpt, tone and tighten!
Brooke Burke-Charvet's innovative and easy-to-follow workouts will help keep you on track to achieve your weight-loss goals for the New Year!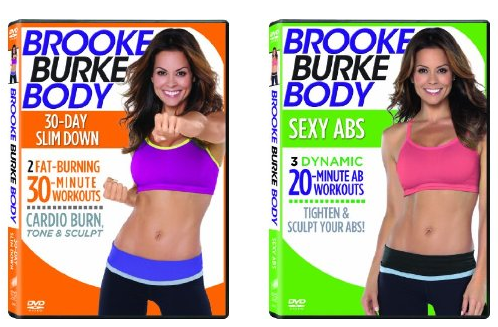 Sculpt your body in the privacy of your own living room with Brooke Burke-Charvet's newest workouts! Continuing the success of her two previously released fitness DVD's, Burke-Charvet's newest workouts provide a combination of her favorite moves to burn fat, tone muscles and make you sweat. These results-oriented programs are designed to inspire and encourage everyone – no matter their fitness level.  Exclusive to the DVDs are Burke-Charvet's favorite smoothie recipes that are fast, nutritious and delicious to help supplement your workout.
Five lucky winners will receive one copy of Brooke Burke Body: Sexy Abs and one copy of Brooke Burke Body: 30-Day Slim Down, exclusively available for purchase at Amazon.com and Amazon Instant Video.
Brooke Burke Body: Sexy Abs entertains and engages audiences with three effective 20-minute abdominal workouts, focusing on the core muscles and featuring Burke-Charvet's "Sweet 16," the top 16 abdominal exercises that have proven successful for Brooke herself.
Brooke Burke Body: 30-Day Slim Down provides an amazingly fun, easy-to-follow and efficient total-body workout that balances cardio with sculpting and toning moves to help you slim down. Both workouts provide motivational and non-intimidating programs that grow with you as your coordination and skill level with the exercises evolve.  
Enter now for your chance to win the Brooke Burke Body Giveaway!
Entries are unlimited.